Much of Reno's St. Patrick's Day fun happens in our numerous Irish pubs, but there is plenty more. Check out the many St. Patrick's Day events and activities going on throughout the area, many of which are family-friendly. St. Patrick's Day is on Wednesday, March 17, 2021.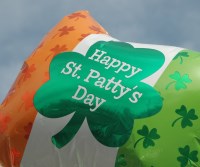 Reno Area Irish Pubs - Reno, Sparks, and the Lake Tahoe area all have Irish pubs where you can be sure to enjoy St. Patrick's Day in proper style. Depending on where you go, you'll find Irish food and drinks, live music, dancers, and even bagpipers. My Irish pubs article lists them so you can find one in your neighborhood.
Bag of Shenanigans Fundraiser: St. Patrick's Day Party in a Bag - deadline to purchase is Wednesday, March 3, 2021. Presented by the Sons and Daughters of Erin (SADOE), this is our second Bag of Shenanigans Fundraiser to help you create your own St. Patrick's Day Party in a Bag. Prices are $20/$25 for members and $35/$40 for non-members, with a $5 raffle ticket option for either a drawing for a gerontology kit valued at $99, a SADOE Irish Whiskey Tasting valued at $40 and a Glass Quiach valued at $20. Visit the website for ticket information.
30th Annual Rocky Mountain Oyster Fry - Saturday, March 13, 2021, 10 a.m. to 4 p.m. Go up to Virginia City for this popular event. Cooks from around the west fry, smoke or grill these delectable concoctions in a way that will make you forget what you're really eating. Dress to impress in your most festive or outlandish St. Patty's Day garb. There are a limited number of tickets available in order to ensure safety guidelines are followed. This is also the day for the St. Patrick's Day Cruise (12 noon to 1 p.m.), taking the place of the usual St. Patrick's Day Parade and other St. Patrick's Day weekend of activities. (Note: Tickets for this event are sold out.)
Leprechaun Race Virtual 5K Run / Walk - Friday through Sunday, March 12 - 14, 2021. Between March 12 at 12:01 a.m. and March 14 at 10 a.m., run or walk a 5K (3.1 miles) anywhere that you want and where it is safe, even on a treadmill. Submit your time during this time window. Yes, there still will be our speedy real life leprechaun to beat. If your time is faster than hers, then plan to pick up your special prize when you pick up your race goodies. On Sunday March 14 from noon to 4 p.m., drive through the Discovery Museum parking lot to pick up your race goodies, a race shirt if you purchased one, and take a photo with our real life Leprechaun. The Leprechaun Race is a benefit for the Terry Lee Wells Nevada Discovery Museum.
"Shamrock Shake" Virtual Party for Individuals with Special Needs - Sunday, March 14, 2021, 2 p.m. to 3 p.m. Event by City of Reno Adaptive and City of Sparks. Join us for a virtual party for teens and adults with special needs. Activities include dancing, themed activities, and a special appearance. Party takes place on Zoom. Zoom Meeting ID: 944 8494 1593. Passcode: Shamrock.
Shamrocks and Shenanigans Feast at The Nugget - Friday and Saturday, March 12 - 13, 2021. Enjoy classic Irise fare and an open bar. There will be two seatings each day at 6 p.m. and 7:30 p.m. Reservations recommended. 21+ only. The Nugget is at 1100 Nugget Avenue in Sparks.
St. Patrick's Day Dining at the Bonanza Casino - Wednesday, March 17, 2021. The Branding Iron Cafe will be serving a corned beef and cabbage or Reuben sandwich special from 11 am. to 10 p.m. Both are meals with lots of side dishes. The Bonanza is at 4720 North Virginia Street in Reno. (775) 323.2724.
St. Patrick's Day Dining at the Atlantis - Wednesday, March 17, 2021. Celebrate St. Patrick's Day at Atlantis with food and drink specials. Whether you're looking for a traditional Irish-style meal or some festive and fun Irish drinks, you'll find both. Menu and drink specials will be available at The Purple Parrot, Toucan Charlie's Buffet & Grille, and Manhattan Deli. The Atlantis is at 3800 S. Virginia Street in Reno. (775) 824-4411.
St. Patrick's Day Free Safe RIDE Program - Make it a safe St. Patrick's Day and ride the bus if your celebrating involves enjoying green beer, ale, and Irish whiskey. All scheduled RTC transit services will be offering free rides on March 17, from 4 p.m. to 2 a.m. RTC is sponsoring this freebie along with several area businesses and organizations.
Family-Friendly St. Patrick's Day Customs and Traditions - Here are some suggestions for St. Patrick's Day customs, traditions and activities the whole family might enjoy, submitted for your consideration by guest author Sarah Lockwood.
Sponsored Links
Sponsored Link