You may have heard of Virginia City, Nevada, without knowing just where it is. This is where the boys from the "Bonanza" TV show went for supplies or to straighten things out if there was trouble in the neighborhood. Today, you can visit this historic place and the Wild West atmosphere preserved for your fun and enjoyment. You can, according to the Virginia City Tourism Commission (VCTC), "Step Back in Time" as you walk the wooden sidewalks just like they were when Virginia City was one of the richest places on Earth.
Take a Walk in Virginia City, Nevada
The best way to enjoy a visit to Virginia City is simply to stroll up and down C Street, the town's main thoroughfare. You'll get a flavor of what it was like when the Comstock mining boom was in full swing, with thousands of people going about their business to the sound of stamp mills pounding ore 24 hours a day. Take your time to explore the many shops, restaurants, saloons, gambling halls, museums, and other relics of a bustling former life.
Virginia City is built on the side of Mt. Davidson, which means it's either uphill or downhill if you venture off of C Street. It's worth the effort, though, as some of the more interesting places to see don't front on the main drag. These include Piper's Opera House, the Storey County Courthouse (Virginia City is the county seat), St. Mary's in the Mountains Catholic Church, the V&T Railroad Depot, Comstock History Center, Virginia City Cemetery, to name a few.
If you would like a bit of guidance, check out these online itineraries for ideas of things to do and places to visit. You can also visit the Virginia City Tourism Commission at 86 South C Street. Their phone number is 775-847-7500.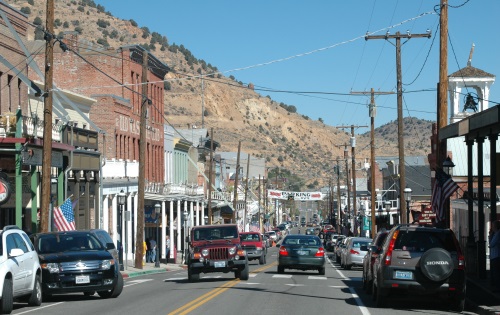 Along C Street in downtown Virginia City, Nevada. Photo © Stan White
Main Events in Virginia City, Nevada
Virginia City cultivates a fun and friendly atmosphere by holding several unusual events during the year. Many are family friendly, while some are suited to an adult crowd. To see what's happening on a particular date, visit the Event Calendar.

St. Mary's in the Mountains Catholic Church view from the V&T Railroad Depot in Virginia City, Nevada. Photo © Stan White
How to Get to Virginia City, Nevada
From Reno: Drive south on I580 / U.S. 395 and take the exit in south Reno directing you to Virginia City Historic District. The route winds up the Geiger Grade (Nevada 341) directly to Virginia City. An alternative is to take S. Virginia Street to the intersection with 341 and turn left. It's about 25 miles to downtown Virginia City. On the way up, be sure to stop at the scenic overlook for a panoramic view of Mt. Rose and across the Truckee Meadows.
From Carson City: Take U.S. 50 east for about six miles, then turn left on Nevada 341. This twisty mountain road turns into 342 and continues into Virginia City on C Street. The distance from Carson City is about 16 miles.
A third way to get to Virginia City is on the Virginia and Truckee Railroad from Eastgate Station near Carson City. Weekend round-trip steam trains run from Memorial Day to October. The train ride is great fun, but you only get about three hours in Virginia City before the return trip departs.
Parking in Virginia City, Nevada
Virginia City is located on the steep slopes of Mt. Davidson and was built long before there were cars. That means the streets are narrow and steep and there isn't much flat ground without a building on it. Parking gets especially tough on busy holiday weekends and during events. The easiest thing to do is follow the signs to the free parking area a couple of blocks downhill from downtown and leave your car there. You have to walk back up the hill, but you haven't wasted half your time jockeying for one of the few parking places along C Street.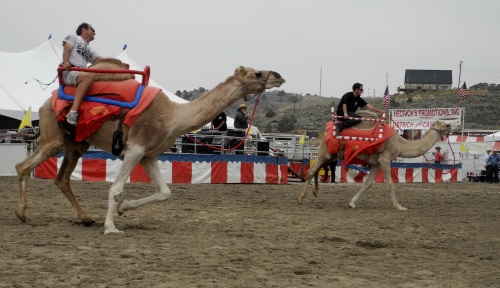 International Camel and Ostrich Races in Virginia City, Nevada. Photo © Stan White
Sponsored Links
Sponsored Link