Free presentations from the Historic Reno Preservation Society are open to the public. These programs are for you if you are a local history buff or just want to know more about how and why Reno and northern Nevada got to where we are today.
History of LGBTQ Reno - Wednesday, January 16, 2019. Reno is one of many examples of a small but thriving LGBTQ community. As far back as 1882, Reno had an LGBTQ presence, which the talk will cover through the Great Recession, including the history of the Reno Gay Rodeo and its effects on the world. Northwest Reno Library, 2325 Robb Drive, Reno, 5:30 p.m. Presented by Jeff Auer.
50th Anniversary of the Reno Philharmonic - Sunday, January 27, 2019. Join Dr. Engrid Barnett for a presentation about the Reno Philharmonic and to explore history and culture in northern Nevada. Downtown Reno Library, 301 S. Center Street, Reno, 12:30 p.m.
Hooks, Hoses, and Houses: Nevada's Historic Fire Stations - Wednesday, February 20, 2019. This exploration of Nevada's historic fire stations will discuss the history of firefighting and firehouses in Nevada, and the ways these unique landmarks can be saved for future generations. Jim Bertolini is a Historian at the Nevada State Historic Preservation Office (NVSHPO). Northwest Reno Library, 2325 Robb Drive, 5:30 p.m.
Washoe Tribes and Tourism - Sunday, February 24, 2019. Dr. Catherine Magee's research explores the reciprocal relationship between cultural heritage preservation and tourism. She is currently Director of the Nevada Historical Society. Downtown Reno Library, 301 S. Center Street, 12:30 p.m.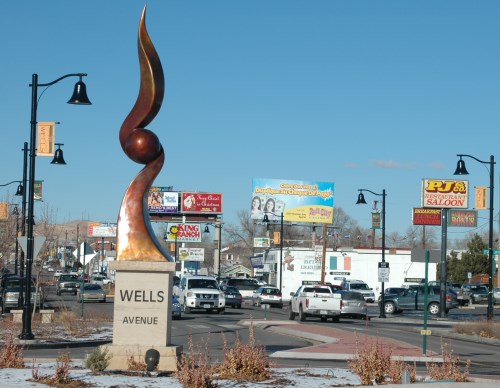 Old houses are being restored in Reno's historic Wells Avenue neighborhood. Photo © Stan White
Source: Historic Reno Preservation Society.