Winter break activities for children and families around Reno and Sparks include camps and other things to do from several area organizations. According to the "Washoe County School District Calendar: 2017-2018 School Year," winter break is December 25, 2017 to January 12, 2018. Add in weekends on each end and you get lots of days to fill while the kids are out of school.
Vacation Station Winter Break Camp from Reno Parks & Rec
December 26 - 29, 2017, January 2 - 5, 2018, January 8 - 12, 2018. During winter break, the City of Reno Parks, Recreation and Community Services Department is presenting Vacation Station Winter Break Camp for kids ages 6 to 12 and a half. These camps will be from 7 a.m. to 6 p.m. each weekday (except Dec. 25 and Jan. 1) and are offered in weekly sessions. Activities will include sports, games, field trips, and arts and crafts. The fee is $100 per week or $30 a day at either location.
Evelyn Mount Northeast Community Center, 1301 Valley Road (EMNECC)
Plumas Park and Gym, 475 Monroe Street
For more information, call (775) 334-4280. Kids should bring a lunch. A waiver of liability for is required for field trips to various local fun spots. Scholarships are available. You can now register online.
Winter Camp Discovery at The Discovery Museum
January 2 - 5 and January 8 - 12, 2018. The Discovery Museum winter break camps are popular and the number of kids is limited, so sign up as soon as you can to ensure your child a spot. Online registration is available at the Winter Camp Discovery web page. The information phone number is (775) 786-1000. Kindergarten camp is from 9 a.m. to 12 noon or 1 p.m. to 4 p.m. Camps for older kids are from 9 a.m. to 4 p.m. There are camps for different age groups, from Kindergarten through 7th grade. Early drop off and late pick up are available for an additional fee. Financial assistance is available.
Arts for All Nevada Kid's Art Camps
December 27 - 29, 2017, January 2 - 5 and 8 - 12, 2018. A series of one day Holiday Art Camps will be held at the Lake Mansion in Reno during these days. Camps run from 9 a.m. to 12 noon. The cost is $20 per day (all supplies included), so the cost per kid (ages 6 to 10) varies depending on the number of days in the session you choose. There will be different art, theater, and creative movement/music activities at each session. Each camp has its own online signup page, so navigate to the date of interest on the calendar page to enroll your child.
Winter Break Camps for Kids at the Nevada Museum of Art
January 3 - 5 and 10 - 11, 2018. One day at a time "Art Break for Kids" classes are for ages 7 to 12 and go from 9 a.m. to 2 p.m. Children will have fun exploring a variety of art mediums in these fun and interactive one-day workshops. Sign up online through the website.
January 8 - 12, 2018. Kids will have fun exploring the tactile nature of clay at the Nevada Museum of Art. Instruction will include basic hand building, throwing on the wheel, and sculpture. Students will learn about the basics of pottery, glazing and the transformation of their pieces from the heat of the museum's kiln. Snack and materials are included. "Winter Break Camp: Fun with Clay" is for kids ages 7 to 12, from 8:30 a.m. to 12 noon each day.
Christmas Capers with Sparks Parks and Recreation
December 22, 26 - 29, 2017 and January 2 - 5 and 8 - 12, 2018. Looking for festive holiday activities for your children (Kindergarten through 6th grade) during the winter break? This program offers field trips, sports, games, crafts and more. Registration is limited to 180. Drop-ins will be taken on a space available basis only beginning the Thursday before the week of desired attendance. Anything less than a full section is considered drop in. For details on costs and location, call the recreation office at (775) 353-2376 or go to the "Sparks Recreation Activity Guide."
Winter Break Camps at the University of Nevada, Reno
January 8 - 12, 2018. KIDS University at UNR offers themed winter camps featuring the academic STEAM components, creativity, sports and fitness and culture and language. Camps for grades 2 to 8 and organized around the themes. Camps are daily from 9 a.m. to 3:30 p.m. Each camp has its own set of detailed information available from the KIDS University website. Drop off is 7:45 a.m. to 8:45 a.m. and pick up is 3:45 p.m. to 5:30 p.m. each day. The fee is $275 per camp. (775) 784-4062.
Winter Day Camp by Great Basin Outdoor School
January 8 - 12, 2018. This camp, for 1st through 6th graders, will be at the River School Farm. Kids will be discovering topics based on snow science, winter safety, wildlife, and geology. Every morning a professional from each field will share a hands-on presentation about the subject where the children will play games, get crafty, and even go snowshoeing. Camps are 9 a.m. to 4 p.m. each day and cost for the week is $195. Before and after care available for an additional fee. The River School Farm is at 7777 White Fir Street in west Reno. (775) 324-0926.
Skating at the Reno Ice Rink
The Downtown Reno Ice Rink at Greater Nevada Field will be open daily throughout winter break (weather and ice conditions permitting). There will be several sessions per day during the winter break holidays, starting at 10 a.m. and ending at 10 p.m. For more information about times and dates, refer to "Reno Ice Skating Rink Schedule."
Go Play in the Snow
There are some excellent snow play places near Reno and Sparks. Many of these areas, like Tahoe Meadows off the Mt. Rose Highway, are on public land and free for snow play. Many of the Lake Tahoe area ski resorts have sledding and tubing hills with lifts. These aren't free, but they can be lots of fun and are way cheaper than lift tickets.
Go to the Movies
The Reno metro area offers four multi-screen theaters, a low-cost cinema at the Grand Sierra Resort, feature films and star shows at the Fleischmann Planetarium, and an IMAX theater in Sparks.
Activities for Kids and Families at the Washoe County Library
You'll find fun activities at your local library branch during winter break. The Washoe County Library System offers many free events, activities, and presentations. Children of all ages, families, and adults will find something of interest at every library branch in Washoe County.
Reno Bighorns Basketball
Friday, December 22, 2017. Reno Bighorns games are fun and family-oriented. Everyone will enjoy watching the Bighorns take on the Santa Cruz Warriors at 7 p.m. Games are downtown at the Reno Events Center, 400 N. Center Street. Here are additional home games during winter break...
Thursday, December 28, 2017, vs. Memphis Hustle, 7 p.m.
Friday, January 5, 2018, vs. Northern Arizona Suns, 7 p.m.
Sunday, January 7, 2018, vs. Salt Lake City Stars (game will be at Golden 1 Center in Sacramento), 4 p.m.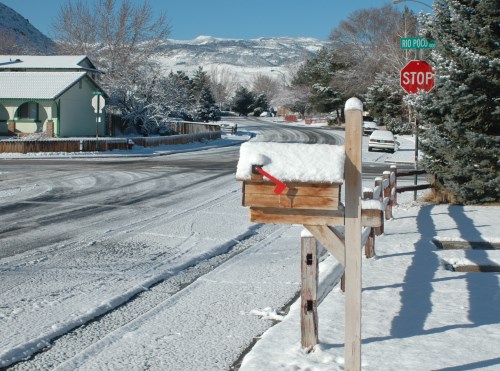 Blue sky after winter snow in Reno, Nevada. Photo © Stan White