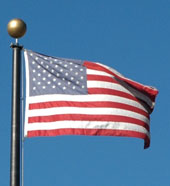 Memorial Day in 2022 will be observed on Monday, May 30. This three-day weekend (May 28 - 30, 2022) is the traditional start of the summer vacation season and presents us with lots of things to do around the Reno region.
Ride the V&T Railroad on Memorial Day Weekend
Saturday and Sunday, May 28 - 29, 2022. Train rides on the Virginia and Truckee Railroad (V & T) for the 2022 season start on Memorial Day weekend. The train departs Eastgate Station near Carson City at 10 a.m. for the trip to Virginia City. On the route, meander through tunnels, canyons and mining towns aboard this historic train. This relaxing, all-day train excursion is fully narrated with historical facts and anecdotes and includes a fun 3.5-hour stopover in historic Virginia City. For tickets, visit the V&T Railroad or call (775) 686-9037.
Virginia City to Gold Hill on the V&T Railroad
Up in Virginia City, V&T Virginia City - Gold Hill excursion trains run a 4-mile, 35-minute loop through Virginia City and Gold Hill. Hear the conductor narrate remarkable stories of the Comstock Bonanza, when the V&T was built, and Virginia City was the richest city on earth. Hourly departures from 10:30 a.m. to 4 p.m. Reservations are not needed. Visit the website for route schedule and ticket prices or call (775) 847-0380.
The Discovery Museum
The Discovery (Terry Lee Wells Nevada Discovery Museum) will be open for Memorial Day weekend, including the Memorial Day holiday on Monday (from 10 a.m. to 5 p.m.). Sunday, May 29 is Paint on Clear Canvas Day. Paint or draw on the Clear Canvas in Da Vinci's Corner and then watch as the canvas is washed clean to prepare for the next amazing works of art. The Discovery is located at 490 S. Center Street in Reno. There is free parking next to the museum. The information phone is (775) 786-1000.
Idlewild Park Train
The Idlewild Park train begins its 2022 season on Friday, May 27, and continues through Labor Day weekend, ending on Monday, September 5. It runs from 11 a.m. to 3 p.m. on Thursdays and Fridays, 11 a.m. to 4 p.m. on Saturdays and Sundays. It's also open on the Mondays of Memorial Day and Labor Day.
Memorial Day Weekend with the Reno Aces
Tuesday through Sunday, May 31 - June 5, 2022. This series of games at Greater Nevada Field are all vs. the Tacoma Rainiers. Each game has fun promotions, including various food specials and fireworks on Friday. Come out to root for the Aces and enjoy baseball during this holiday weekend.
Wild Island Family Adventure Park
Scheduled to open May 20, 2022. The water park at Wild Island Family Adventure Park in Sparks will be open over the Memorial Day weekend, May 27 - 30, 2022 (weather permitting). The water park is open from 11 a.m. to 5 p.m., except on May 27 when it's 4 p.m. to 7 p.m. The Coconut Bowl and other attractions will be open as well. For information about hours, rates, and all the things you can do, visit the Wild Island Family Adventure Park website. The park phone number is (775) 359-2927.
Picnic in a Public Park
Reno and Sparks have a nice variety of public parks, most of which have picnic facilities suitable for both small and large groups. Some picnic areas can even be reserved for groups of families and friends. Nearby state parks like Washoe Lake State Park are also good places to enjoy a Memorial Day gathering. Other parks in Washoe Valley that are nice for family activities are Bowers Mansion Regional Park and Davis Creek Regional Park.
Go Swimming at a Public Pool
Many public swimming pools and water play places in Reno, Sparks, and Washoe County will be open for Memorial Day weekend. The pools are inexpensive and some of the water play places are free.
Take a Memorial Day Hike
Numerous hiking and walking trails around the Truckee Meadows and nearby provide opportunities to get outdoors and enjoy the Memorial Day weekend. We have everything from easy strolls to hikes that can be quite challenging. One popular destination for families is the easy trails around Galena Creek Visitor Center.
Another possibility is "Discover Your Parks Walks in Washoe County," which visit a different park each Thursday evening through September. There is a walk just before and just after the Memorial Day weekend.
It isn't really quite summer yet, so we are not necessarily guaranteed nice weather for outside activities. If in doubt, check highway conditions and the weather forecast before heading out.
Memorial Day Events and Activities in Nearby Areas
Virginia City Memorial Day Celebration of Heroes Parade
Saturday, May 28, 2022, 12 noon. The parade travels down C Street, Virginia City's main drag. The Parade honors all the men and women of the military who paid the ultimate sacrifice for our country. Join Virginia City as we pay tribute and honor the great servicemen and servicewomen. While in Virginia City, check out the other fun things to do while visiting the Comstock, like riding on the V & T Railroad to Gold Hill and back.
Steam Trains at the Nevada State Railroad Museum
Saturday through Monday, May 28 - 30, 2022, 10 a.m. to 4 p.m. A historic steam locomotive will be operating on Memorial Day weekend at the Nevada State Railroad Museum in Carson City. Round trips from Wabuska Station are $8 for adults and $4 for kids 4 to 11. Under 4 are free. This great museum is located at 2180 S. Carson Street in Carson City. Call (775) 687-6953 for more information.
Taylor Creek Visitor Center at Lake Tahoe
Taylor Creek Visitor Center opens for the 2022 season on Saturday, May 28 during Memorial Day weekend. This is a great (and free) family destination, with hiking trails, interpretive programs, a stream profile chamber on Taylor Creek and information about the big variety of natural ecosystems and features found in the Lake Tahoe Basin. Nearby are beaches on the shores of Lake Tahoe and the Tallac Historic Site.
Black Rock Rendezvous
Friday through Monday, May 27 - 30, 2022. The 2022 Black Rock Rendezvous is returning with in-person events in the Black Rock Desert. Join the BLM Black Rock Field Office, Friends of Nevada Wilderness, Friends of Black Rock-High Rock, and Nevada Outdoor School as we celebrate, explore, and learn together. There will be group camping with some pot-luck style meals. Participants are expected to bring all the water, food, and personal supplies they will need to be self-sufficient. Registration is required. Visit the website to see the schedule and get more information about the variety of activities.
Saturday and Sunday, May 28 - 29, 2022, 11 a.m. to 5 p.m. both days. The Village at Palisades Tahoe will host a wide array of offerings that are made in or inspired by the Lake Tahoe Basin and Truckee areas: local artisans, businesses, chefs, organizations, and entertainers. Discover, explore, and experience our rich community full of talented creators while enjoying a variety of local food and beer. Palisades Tahoe is south of Truckee at 1960 Squaw Valley Road in Olympic Valley.
Memorial Day Event and Service at Northern Nevada Veterans Memorial Cemetery
Monday, May 30, 2022, 11 a.m. This event remembers those who served our country and are buried at this cemetery. 14 Veterans Way in Fernley. It is about a 40 minute drive from Reno.
Sponsored Links
Sponsored Link