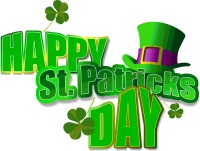 Who says St. Patrick's Day isn't a family-friendly holiday? Most Americans are introduced to the popular spring holiday while in school when cutting out shamrocks from construction paper, wearing green to ward off pinches, and spending recess hunting for four-leaved clovers. If you really want to embrace the holiday spirit with the kind of gusto you did as a child, consider some of the less celebrated, but just as fun, customs. It should all start with a seemingly strange breakfast of corned beef and cabbage - it's not pancakes and eggs, but it's supposed to give you a year's worth of luck. Ready to go all Irish on March 17th? Here are a few traditions that might be perfect for you:
Join the Holy Day of Obligation - St. Patrick's Day was (and is) a Christian holiday. However, it doesn't matter what your faith is or isn't, because most Catholic churches welcome all visitors, especially on holidays. You'll find them bustling, with everyone wearing shamrocks. Afterwards, a traditional family roast is served early at home, and it's become a contemporary tradition to watch the Dublin, Boston, Chicago or New York parades on television while indulging.
Plant some peas - This is a tradition few people know about, but it was once as common as searching for four-leaved clovers and rainbows. It's largely observed in the northeast when mid-March is prime pea-planting season. Still, the peas are green, and you can certainly make a show of planting a pea as part of your new tradition. You might also want to include peas in your St. Patrick's Day meals.
Watch for fairies - Have you ever wondered why you got pinched on St. Patrick's Day if you weren't wearing green? Legend has it that fairies, already mischievous, had a habit of pinching everything they could see. However, part of their magical makeup included not being able to see the color green. You can pay homage to this fairy tradition by reading up on these mythical creatures or, if you have little ones, helping them scout for fairies outside. A trail of glitter is a common sign that a fairy's been nearby.
Have some Irish tea - Similar to India, the Irish are very particular about their tea. It must be black and include milk and sugar. Enjoyed throughout the day, it should be a strong tea that can be as sweet as you like. Assam Indian teas are the most popular in Ireland, but there are also strong followings for Lyons teas and Barry's teas. Get some Irish "biscuits" like shortbread to really embrace this tradition.
Try hurling, Gaelic football or camogie - These three sports aren't well known outside of Ireland, but they can be a blast to watch or try. Hurling is known as "the fastest game on the grass" and includes elements of lacrosse, hockey and baseball. Gaelic football is a blend of soccer (or "football") but has the high-scoring accessibility of basketball. Camogie is a stick and ball sport only played by women and is somewhat the equivalent of hurling for men.
Wear a kilt - Yes, it's a well adopted custom, but it can also be great fun especially if you're competing in a St. Paddy's Day costume contest. For men, it's a uniquely "freeing" experience, and you just might find that you like the flexibility a kilt offers. If you're in a holiday fun run or walk, it's also an excellent alternative over shorts or yoga pants.
No matter how you celebrate this greenest of holidays, make the most of it. There are endless ways to embrace your inner Irish, whether it's looking for rainbows, indulging in your favorite St. Patrick's Day chocolates, or rocking out to your Irish playlists. How will you be spending the weekend of March 17th, and how can you make it one to remember with the whole family?
Article contributed by Sarah Lockwood of ThePreventionCoalition.org.
Sponsored Links
Sponsored Link