Hot August Nights 35th Anniversary
Hot August Nights 2022 is the 35th anniversary of the Reno area's biggest event of the year, which will run from Tuesday, August 2 through Sunday, August 7. What began as a local party at the Reno Sparks Convention Center in 1986 now draws over 800,000 people during its run.
Hot August Nights is a celebration of everything to do with classic cars, vintage rock 'n roll, and the American era of the 50s and 60s when cruising, sock hops, and high school proms were all the rage. Hot August Nights is a party that takes over the town during its run. Classic cars fill the streets, rock 'n roll fills the air, and entertainment galore makes Hot August Nights the premier fun festival in Reno and Sparks.
There are a couple of preliminary related events leading up to the main August event in Reno and Sparks. If you want to get some experience before the really big party, check out the Hot August Nights Spring Fever Revival in May and the kickoff event in Virginia City the weekend before the big event gets going.
Hot August Nights in Reno and Sparks
The main Hot August Nights 2022 event in Reno and Sparks will run from Tuesday, August 2 through Sunday, August 7. There is so much happening I couldn't even begin to list it, so refer to the Hot August Nights event schedule to see what is going on when and where. The whole Hot August Nights website is excellent and can probably answer just about all of your questions. If you plan to come from out of town, don't wait to book accommodations or you will end up out in the boonies, far from the fun. To get you started, here are some of the main activities and links to more information...
Hot August Nights Spring Fever Revival
Friday through Sunday, May 20 - 22, 2022. This annual festival will get the engines warmed up and ready for the main event as we Show-n-Shine for three days with classic vehicles, live entertainment, a vendor village featuring art and craft vendors, memorabilia, and a variety of food vendors. The Poker Run started last year will return. Visit the website for an application and details about the event.
Hot August Nights in Virginia City
Friday and Saturday, July 29 - 30, 2022. Celebrate Hot August Nights in this historic mining town just outside of Reno with cruising events, live entertainment, poker walk fun and more. Vehicle registration is $50. Hours are 9 a.m. to 4 p.m. both days. Cruising will be from 4 p.m. to 5 p.m.
Hot August Nights Fall Frenzy & Coat Drive
Saturday, October 1, 2022, 9 a.m. to 2 p.m. Hot August Nights will close out the 2022 season with Fall Frenzy, its last Show-n-Shine of the year. This event gives car enthusiasts the opportunity to showcase their classic vehicles one last time before the year's end. This show is free to all 2021 and 2022 registered car participants, a fee will apply to non-registrants.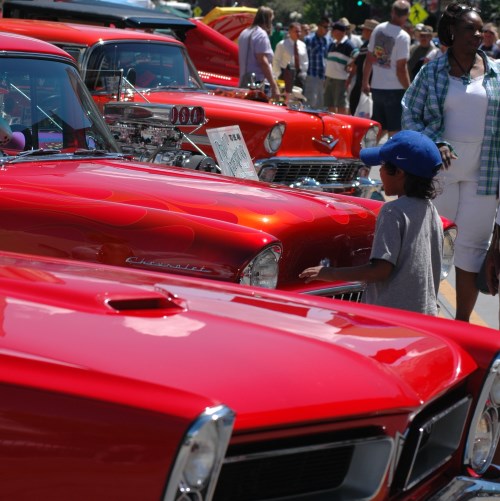 Hot August Nights in downtown Reno, Nevada. Photo © Stan White
Sponsored Links
Sponsored Link