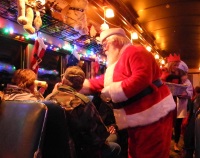 Riding The Polar Express™ to the North Pole has become a popular family outing during the Christmas holiday season in the Reno / Tahoe area. Transportation to visit Santa's legendary workshop is provided on trains of the Virginia and Truckee Railroad, departing on select dates from the Eastgate Depot near Carson City.
All Aboard! Experience the magic of the famed holiday story come to life. Riders are encouraged to wear their favorite pajamas and partake in caroling and a reading of the classic story on their way to the North Pole. All riders will receive hot chocolate and a holiday treat before Santa and his helpers board the train to give each rider the first gift of Christmas – a silver sleigh bell.
Dates for the 2021 Polar Express™
The Polar Express™ for the 2021 Christmas holiday season will visit the North Pole on select dates from November 19 through December 24. For additional information, visit the Polar Express™ Train Ride FAQ. This site includes the dos and don'ts of riding the train to help everyone have a safe and enjoyable experience.
Getting Tickets for The Polar Express™
The Polar Express™ sells out every year. Get tickets as soon as possible if you want to ensure the best seats, date, and time for your family and/or group. Tickets are available online from the Polar Express website and by phone at 855-724-5102. There are no refunds - be sure to have everything lined up before buying tickets.
Ticket options are regular coach, deluxe private room, deluxe coach private table and VIP parlor car. The trip is on the same train, but VIP treatment on a separate parlor car includes additional entertainment, extra time with Santa, a special holiday treat, and a Polar Express™ ceramic hot chocolate mug. All passengers receive the Christmas gift of a silver sleigh bell from Santa, hot chocolate and cookies, and a reading of The Polar Express™ story.
No pets. Only certified service animals are allowed, which DOES NOT include emotional support or comfort animals.
Polar Express Parking
Parking is available at Gold Dust West Carson City (2171 E. William St., which is Hwy. 50), with a free shuttle to Eastgate Depot. Limited parking at Eastgate Depot is available for $15 per parking space advanced purchase.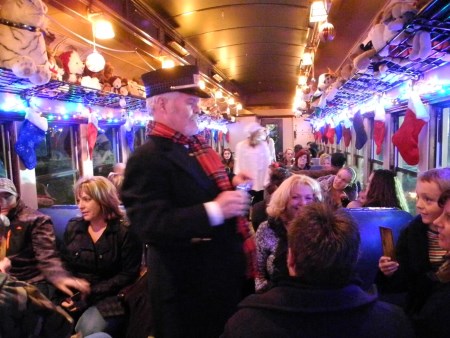 The Polar Express™ takes passengers to the North Pole on the Virginia & Truckee Railroad. Photo © Stan White
Sponsored Links
Sponsored Link