The Nutcracker at the Pioneer Center
Friday through Sunday, December 10 - 12, 2021. The stage at the Pioneer Center for the Performing Arts will be alive with a sugar plum fairy and dancing mice as A.V.A. Ballet Theatre presents the annual Nutcracker Ballet, with Tchaikovsky's music by the Reno Philharmonic Orchestra. Principal dancers who have performed with professional ballet companies such as Ballet West, Kansas City Ballet and the Diablo Ballet will perform the leading roles along side a large cast of local talent.
Performance times are Friday, December 10 at 8 p.m., Saturday, December 11 at 2 p.m. and 8 p.m., and Sunday, December 12 at 1 p.m. and 7 p.m. Tickets prices start at $25, with discounts for seniors and children. For tickets by phone, call (775) 434-1050 or purchase tickets online by visiting the website. Box office hours are Monday through Friday, 10 a.m. to 4 p.m. and two hours prior to a show. Box office phone is (775) 686-6600. The Pioneer Center is at 100 S. Virginia Street in downtown Reno.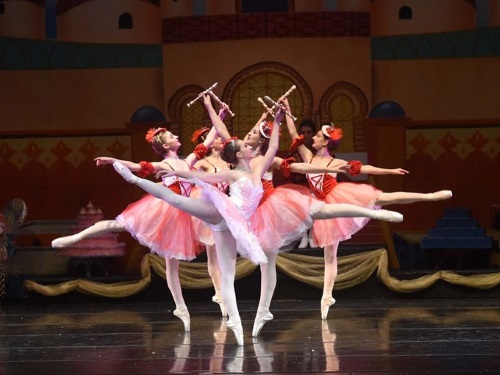 "The Nutcracker" at the Pioneer Center for the Performing Arts, Reno, Nevada. Photo courtesy A.V.A. Ballet Theatre.
The Peanutcracker: The Story in a Nutshell
December 3, 4, 13, 2021. Peanutcracker is a shortened, kid-friendly version of the classic holiday ballet suitable for families with young children who wouldn't do well at a full-length performance of The Nutcracker. Sierra Nevada Ballet of Reno performs this piece along with more than 50 local children. Shows on December 3 are for school groups. Shows on December 4 are public performances at 2 p.m. and 4 p.m. At the Carson City Community Center, 850 E. William St. For tickets and more information, email info@sierranevadaballet.org or call (775) 360-8663. Another school group performance is on December 13 at the Pioneer Center in Reno.
The Nutcracker at the Grand Sierra Resort
Wednesday and Thursday, December 14 - 15, 2022, 7 p.m. With a cast of the finest talents and a lavish blend of costumes, scenery and outstanding choreography, The Reno Dance Company's extraordinary production creates a magical winter wonderland that mesmerizes children and ballet enthusiasts of all ages. Tickets start at $25. Tickets are available online. The Grand Sierra is at 2500 E. 2nd St. in Reno. Also at Bally's Lake Tahoe Casino Resort on December 22 - 23, 2022 at 7 p.m.

Sponsored Links
Sponsored Link