Update: In-person Discover Your Parks Walks are back for 2021. You can also virtually visit several popular parks and trails with guided hike presentations at "Virtual Guided Hikes" on the TMPF website.
Truckee Meadows Parks Foundation is leading Discover Your Parks Walks in different parks located in Washoe County from April through September, 2021. Most 2021 walks are on Thursday evenings and start at 6 p.m. Exceptions are Hidden Valley Park at 7:30 p.m. on April 29, the proposed nature study area at 8 p.m. on June 24, and Cottonwood Park at 6:30 p.m. on August 26. Walks vary in distance from half a mile to about 1.5 miles. Each week, you can explore a new location and learn about the unique and varied ecology and history of parks in our area. Plan on spending a bit over an hour on each hike. Walks are free and open to everyone. However, capacity is limited and you must register online from the website for each walk
2021 Discover Your Parks Walks
April
4/1: Migratory Birds at Swan Lake Park
4/8: Our Watershed at Tom Cooke Trail
4/15: Local History at Crystal Peak Park
4/22: Nature Photography at Sun Valley Park
4/29 @7:30 pm: Night Crawlers at Hidden Valley Park
May
5/6: Geology at Wedekind Regional Park
5/13: Native Plants at Tahoe Meadows
5/20: Alpine Birds at Davis Creek
5/27: Nature Mythbusters at Golden Eagle Park
June
6/3: Micro Nature at Jones Creek Loop
6/10: Reptiles at Rattlesnake Mountain
6/17: Mindfulness at Shadow Mountain
6/24 @8 pm: Sunset Spectacular at Proposed Nature Study Area
July
7/1: Art in Nature at Wingfield Park
7/8: Next Door Neighbors at Slide Mountain
7/15: Nature Journaling at Upper Thomas Creek
7/22: The High Desert at Evans Canyon
7/29: Urban Nature at Virginia Lake Park
August
8/5: Pollinators at Idlewild Park
8/12: Change at Galena Creek Nature Trail
8/19: Monarchs at Dorostkar Park
8/26 @6:30 pm: Bat Walk at Cottonwood Park
September
9/2: Leave No Trace at Lockwood Loop
9/9: Beginner Birding at Teglia's Paradise Park
9/16: Local History at Bartley Ranch
9/23: Soils at Lazy Five
9/30: Fall Foliage at Oxbow Nature Study Area
2021 Virtual Guided Hikes
Here are the available virtual guided hike presentations. Visit the Truckee Meadows Parks Foundation website for additional details. The contact phone number is (775) 410-1702.
Glendale Park
Mayberry Park
Lockwood Park: Loop Trail
Rainbow Ridge Park
Deer Park
Cottonwood Park
More Reno Area Hiking and Walking Trails
You can, of course, strike out on your own on any of numerous other hiking and walking trails in the Reno area. To learn about some of these, refer to...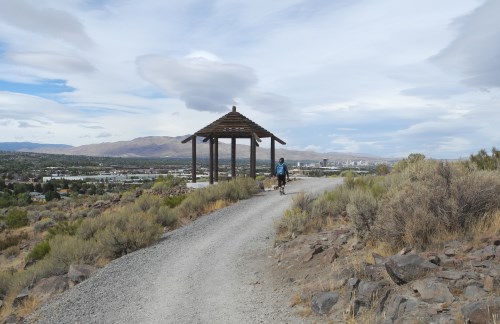 You get nice views when hiking along the Huffaker Park Lookout Trail is south Reno, Nevada. Photo © Stan White
Source: Truckee Meadows Parks Foundation.
Sponsored Links
Sponsored Link