The train ride in Reno's Idlewild Park is a fun spring and summer activity enjoyed by kids and families. It is one of many features in Idlewild Park, which is also the site of the annual Reno Earth Day celebration in April. The ride meanders through a scenic part of the park and goes around one of the ponds.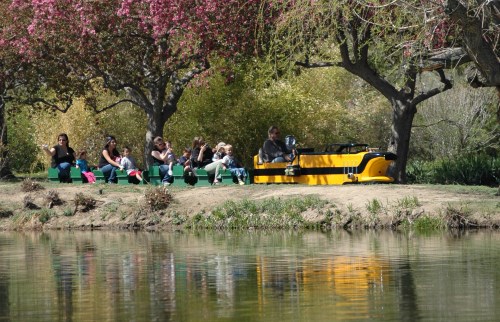 The Idlewild Park train ride typically begins its operating season during spring break at the Washoe County School District. In 2017, the train will run daily from 11 a.m. to 3 p.m. beginning Saturday, March 18 through Sunday, April 2. After spring break, it will run on weekends only, from 11 a.m. to 6 p.m., through Memorial Day weekend. Trains don't run in the event of bad weather. The fare is $2 per person, cash only. Kids 2 and under ride free on an adult lap.
After Memorial Day (May 29, 2017), the train will run every day except Mondays from May 30 through September 4. Two Monday exceptions will be Memorial Day and Labor Day. Hours of operation are 11 a.m. to 3 p.m. on weekdays and 11 a.m. to 6 p.m. on weekends. On Friday evenings from May 19 through September 29, 2017, the train will be running during Reno Street Food - Party in the Park, from 5 p.m. to 9 p.m.
Getting to Idlewild Park
Idlewild Park is located between Idlewild Drive and a bend in the Truckee River. The main entrance is Cowan Street from Idlewild Drive, which is the way to go for parking close to the train ride. You will see a big playground near where you board the train. Other parking areas aren't as close, but this is a beautiful park for a stroll if you end up a bit further away. For more information, call (775) 334-2270.
Source: City of Reno Parks, Recreation & Community Services.