---
Food Trucks and Food Truck Events in Reno and Sparks
Search NewToReno
Custom Search
---
---
Discover Your Parks Walks

Truckee Meadows Parks Foundation is leading walks in different parks located in Washoe County from April through September.
Food trucks (and trailers) and food truck events have both quickly grown in number in the Reno and Sparks area. There are several regularly scheduled food truck gatherings listed below, but you will also find these mobile eateries at other events and locations all around the Truckee Meadows. All events are free to attend, but you'll need money for food and drink.
Reno and Sparks food trucks are not the old roach coaches of yore. These food trucks offer a wide variety of high quality dishes, from various Oriental flavors to BBQ, baked goods, sandwiches, fish, pizza, beer, ice cream, vegan, and more. Besides getting some great food, you will be supporting local business instead of some out-of-area corporation.
Reno Street Food - Food Truck Friday
Come to Reno's Idlewild Park for an evening of fun, music, and lots of good things to eat and drink from Reno's fleet of food trucks, plus available beer and wine. It's free to come enjoy the park every Friday from 5 p.m. to 9 p.m., but the food and drink are for sale. Dates in 2018 are Fridays from May 18 through September 28. Also, the Idlewild Park Train will be running during this event. For more information, call (775) 825-2665. This is a "NO DOGS" event.
Feed the Camel
Feed the Camel is a food truck event and arts bazaar. The 2018 gatherings are on Wednesdays during June, July and August. The location is under the Keystone Bridge at the McKinley Arts and Culture Center, 925 Riverside Drive in Reno. Hours will be from 5 p.m. to 8:30 p.m. Enjoy a family evening with the area's best food trucks, local crafters and artisans, and beer and wine. The event's name is a play on Wednesday being Hump Day in the world of work. For more information, call (775) 450-0062.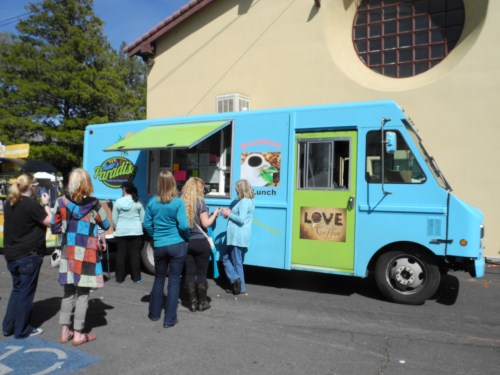 Food trucks at Reno Earth Day. Photo © Stan White