The Discover Science Lecture Series at the University of Nevada, Reno brings renowned scientists and science lecturers from around the country to share their knowledge with the community.
"Science encompasses a wonderfully diverse collection of explorations into the unknown," said Jeff Thompson, dean of the UNR College of Science. "Come and experience the universe of science as the best scientists on the planet visit Nevada for our lecture series. It's a wonderful opportunity for students, faculty and the public."
Lectures are held in the evening at 7 p.m. in the Redfield Auditorium in the Davidson Mathematics and Science Center on the University campus. Admission is free and on a first come basis. Parking is reserved for the event on the top level of the Brian J. Whalen Parking Complex on North Virginia Streett, next to the E.L. Wiegand Fitness Center. For more information, call (775) 784-4591 or visit the College of Science website.
Dr. Karen Lloyd, deep sea marine scientist - Thursday, March 14, 2019. Karen Lloyd studies novel groups of microbes in Earth's deep surface biosphere, collecting them from disparate remote places such as Arctic fjords, volcanoes in Costa Rica, even deep in mud in the Marianas Trench. Lloyd applies molecular biological techniques to environmental samples to learn more about microbes that have thus far evaded attempts to be cultured in a laboratory.
Bob Ziegler, plant pathologist - Thursday, April 25, 2019. Details coming when available.
Source: University of Nevada, Reno.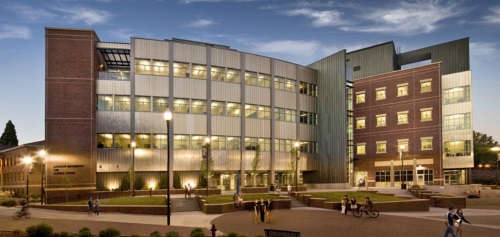 Davidson Mathematics and Science Center at University of Nevada, Reno. Photo courtesy UNR.