Washoe County park rangers lead these outings at locations around the county. Walks are at various times and days and are free and open to the public. Pre-registration required. There will be a maximum of 20 attendees allowed for each hike, and registration opens 30 days in advance. NO PETS.
Ranger Walks Schedule
Here are the parks and dates for the 2022 ranger walks series.
Tuesday, April 26 at 6 p.m. - Davis Creek Regional Park
Sunday, May 8 at 10 a.m. - Crystal Peak Park
Friday, May 13 at 4 p.m. - Rancho San Rafael Regional Park
Tuesday, May 31 at 6 p.m. - Bitterbrush and Interpretive Nature Trails, Galena Creek Regional Park
Sunday, June 12 at 10 a.m. - Pah Rah Interpretive Trail at Golden Eagle Regional Park
Tuesday, June 28 at 6 p.m. - Davis Creek Regional Park
Sunday, July 10 at 10 a.m. - Evans Creek Trail
Tuesday, July 26 at 6 p.m. - Sugarloaf Mountain Trail
Sunday, August 14 at 10 a.m. - Ballardini Ranch Trail
Tuesday, August 23 at 8 p.m. - Slide Mountain Trail
More Reno Area Hiking and Walking Trails
You can, of course, strike out on your own on any of numerous other hiking and walking trails in the Reno area. To learn about some of these, refer to...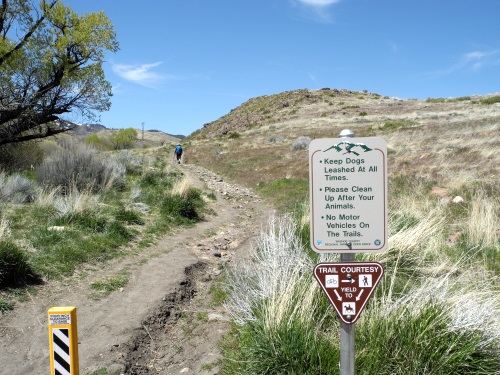 Ballardini Ranch Trailhead, hiking trail in Washoe County, Nevada. Photo © Stan White -
Sponsored Links
Sponsored Link