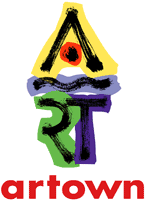 Reno becomes Artown during the whole month of July. Artown 2019 is the 24th anniversary of this multi-faceted event, bringing Reno residents and visitors a month's worth of music, art, dance and other cultural experiences. There are nearly 500 individual events, exhibits and workshops, with over 70% of the events and performances free. Artown brings national and international multi-disciplinary performances to Reno that are literally incredible. Artown 2019 will run for 31 days, from Monday, July 1 through Wednesday, July 31.
Artown is too big to adequately describe in an article like this. To see everything going on by date, go to the Artown home page, then click on the calendar date of interest. You can also select events by type by clicking on the menu choices - Music, Dance, Cultural, Theater, History, Visual, Kids, Film, Literary, Special, Workshops, and Ongoing.
Artown Opening Night
Monday, July 1, 2019. Artown opening nights are always free and huge. This big free event in Wingfield Park officially starts the 24th annual Artown festival in Reno. Come enjoy a day and evening of free music and other activities, then enjoy Artown events throughout the whole month of July. The opening night headliner will be Paul Thorn and New Breed Brass Band. The show starts at 7:30 p.m., but get there early if you want a good seat - park opens at 5 p.m.
Also on July 1 will be Discover the Arts Celebration of Arts, Culture, and Community at the McKinley Arts and Culture Center, from 4:30 p.m. to 7 p.m. Following the hands-on art projects, kids and their families can participate in a Community Youth Parade along the Truckee River to Wingfield Park to help kick-off the opening night festivities.
Ongoing Events at Artown
Here are some of the main recurring Artown events. These, and many more, will be happening on various dates throughout Artown during July.
Lazy 5 Summer Music Series (free)
Rollin' on the River Series at Wingfield Park (free)
Concerts on the Village Green (free)
Uncharted Waters (free)
Family Music Series (free)
Dancing in the Park (free)
Help Support Artown
Here are some ways you can help support Artown and keep this extraordinary event coming back year after year.
Artown 24th Anniversary Closing Night Celebration
Wednesday, July 31, 2019. The free closing night party will be from 7:30 p.m. to 9 p.m. at the Wingfield Park Glenn Little Amphitheater. Join Artown in closing out the month's festivities with Squirrel Nut Zippers, a quirky mix of jazz chords, folk music, and punk rock leanings.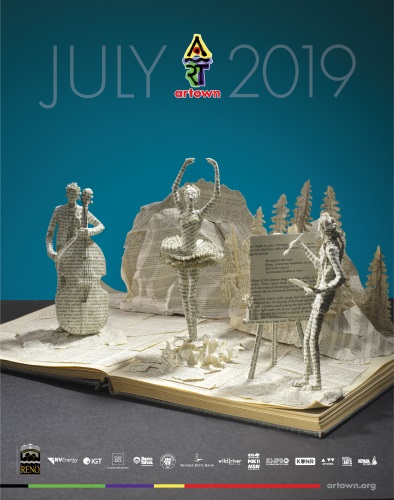 Artown 2018 poster by Debbie, Rachael and John-Henry Lambin.
Image courtesy Artown.
Artown in Sparks
Artown has gotten so big it has spilled over into the neighboring city of Sparks. Artown in Sparks includes multiple events, classes and performances during July. Visit the Artown in Sparks website for descriptions of the programs, dates, locations and times.
Sponsored Links