Older Americans Month 2021 - "Communities of Strength"
Older adults are a vital part of our society. Since 1963, communities across the country have shown their gratitude by celebrating Older Americans Month each May. The theme of the 2021 celebration is "Communities of Strength," with special emphasis on the power of connection and engagement in building strong communities.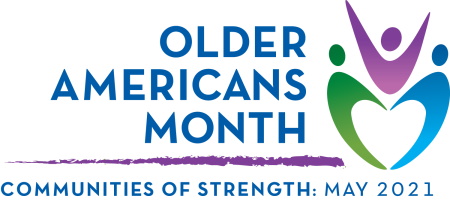 Image courtesy U.S. Dept. of Health and Human Services, Administration for Community Living.
Older Americans Month from Washoe County Senior Services
Due to the pandemic, 2021 Older Americans Month activities in Washoe County will be mostly virtual via Zoom and YouTube. This is, however, an improvement from last year when everything was just canceled.
Older Americans Month 2021 begins on May 1, 2021, with a message from Nevada Senator Catherine Cortez-Masto on YouTube. Additional events will occur throughout the month, though not every day. Get a complete list and links to the presentations from "Older Americans Month" on the Washoe County Senior Services website.
Other activity ideas are available from the Administration for Community Living - "OAM 2021 Activity Ideas"
Older Americans Month in Reno
The City of Reno will celebrate Older Americans Month 2021 with a series of in-person and virtual events throughout the month of May. Older Americans Month in Reno will launch with an event in Somersett West Park on Monday, May 3, 2021 at 11 a.m. Ward 5 Reno City Councilmember Neoma Jardon will present the Proclamation officially designating May as Older Americans Month in the City of Reno to members of the Senior Citizen Advisory Committee.
Other associated events and activities include Older Americans Recognition Day, Signature Events and Parks and Recreation Activities. Visit the Older Americans Month website for details on how to participate.
Free Admission to the National Automobile Museum
Seniors 50 and older get free admission to the National Automobile Museum each Thursday in May, 2021. Come enjoy one of the best auto museums in the country.
For additional information for senior citizens, visit "Reno Area Senior Services, Resources & Programs."
Sponsored Links
Sponsored Link