What is OLLI?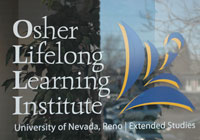 The Osher Lifelong Learning Institute (OLLI) is sponsored by Extended Studies at the University of Nevada, Reno (UNR). This member-directed organization provides a wide variety of educational and social opportunities to active adults age 50 and older in the Reno region.
Course offerings through OLLI
OLLI members have many subject offerings from which to choose, including classes, activities and discussion groups. Here are some examples. All classes are included in the membership fee.
Health and Nutrition
Hikes and Walks
Current Events
History, Geography
Humanities and the Arts
Science and Technology
Modern and Classic Literature
Spirituality
Special Events and Tours
Lots More
Get more details from "OLLI Classes for Members."
How to Join OLLI
The membership year runs from September 1 through August 31. For the annual fee of $45, members can attend as many OLLI events, discussion groups and classes as they wish. Summer memberships for June through August are $25. Some classes may require a small additional fee as noted in class schedules. Scholarships are available for qualified applicants. Members may bring a guest to one free class before they decided to join. Membership applications and other forms are available online. For more information, call OLLI at (775) 784-8053, or email olli@unr.edu.
OLLI Locations
The main OLLI class building is located in the Warren Nelson Building, 401 W. Second Street, Suite 235, Reno, NV 89503. This is downtown, west of N. Arlington Avenue and north of the Truckee River. Some classes take place in south Reno at the UNR Redfield Campus next to the Mt. Rose Highway, 18600 Wedge Parkway, Reno, NV 89511. Parking is free at Redfield. Refer to Class Locations for maps and details.
OLLI Office: (775) 784-8053
Extended Studies at UNR: (775) 784-4046
Links to More OLLI Information