Great Basin Naturalists at Galena Summer Camp
This summer camp is for ages 8 to 12. Eight weekly camp sessions start on June 12, 2018, and will feature different weekly themes and more activities to get your children exploring the outdoors. Located within the Galena Creek Recreation Area, a beautiful forested park on the Mt. Rose Highway between Reno and Lake Tahoe, these summer camps foster creativity, promote core education, and emphasize responsibility to society and the environment. There will be both overnight residential camps and day camps. Camp dates, themes, registration information and pricing are all on the "Great Basin Naturalists at Galena Summer Camp" website and you can download the "2018 Summer Camp Brochure." For more information, call (775) 849-4948.
Teen Environmental Science and Service Learning Academy
This is an outdoor summer camp program for teens age 13 to 17. Teen campers join a discovery-based team, meet and work with scientists in the field, participate in service learning opportunities, go on extended day outdoor adventures, gain leadership experience, learn self-reliance and make new friends. The program includes both day camps and overnight camps. Weekly sessions start on June 18, 2018, with the last program ending on July 27, 2018. Get details about dates, registration, and cost from the Teen Exploration Camp website. (775) 849-4948.
Youth Backcountry Camps from Tahoe Rim Trail Association
This is real camping summer camp for kids ages 12 to 17. Staff leads kids into the wilderness to share the joy and rewarding challenge of backpacking and wilderness survival through four day backpacking adventures. Participants come away with a sense of responsibility for the outdoors and develop confidence as they overcome a variety of challenges. Dates for ages 14 - 17 are July 9 - 12 and August 20 - 23, 2018. For ages 12 - 14, it's June 19 - 22 or July 23 - 26, 2018. To register online, visit the website and click on the dates of interest. For questions, contact Maggie Brandenburg, Outdoor Youth & Programs Manager at maggieb@tahoerimtrail.org.
Summer Art Break, Art High Camps and Summer Art Camps for Kids at Nevada Museum of Art
These are half-day art camps at the Nevada Museum of Art's E.L. Cord Museum School. Kids ages 7 to 12 and teens ages 13 to 18 will enjoy experimenting with clay, ceramics and other art mediums and meet new friends during these half-day camps. Camps are in June, July and August, 2018. Visit the website for camp details and online registration. The information phone number is (775) 329-3333.
Camp Discovery at The Discovery
The Discovery (Terry Lee Wells Nevada Discovery Museum) offers a series of summer camps for kids from Kindergarten through 7th grade. Camp Discovery offers 9 weeks of summer camps from June 12 through August 10, 2018. There are numerous themes and sessions for various age groups - grades K, 1 to 2, 3 to 4, and 5 to 7. You can view the schedule and sign up online for Camp Discovery sessions. Get additional information from the "Camp Discovery FAQ". The Discovery is at 490 S. Center Street in Reno. The info phone is (775) 786-1000.
Art Camps from Arts for All Nevada
Week-long art camps from Arts for All Nevada are offered at the Lake Mansion and other locations around the Truckee Meadows. Camps are offered in June and July, 2018, with a variety of themes, age groups, and locations. Refer to the "Classes, Camps and Events Calendar" for details, dates, and sign up information. Arts for All Nevada main location is the Lake Mansion, 250 Court Street in Reno. Call (775) 826-6100 for more information.
Summer Outburst from Sparks Parks & Recreation
Summer Outburst is available to youth entering 1st through 7th grade and features fun-themed weeks with age appropriate activities, including arts and crafts, swimming, field trips, bowling, active games, Wild Island water slides and golf, skating, special guests and more. These activities are included in the registration fee. Sessions are from June to August, 2018. You can register online from the website or in person at the Recreation Office, 98 Richards Way in Sparks. Call (775) 353-2376 for more information.
Camps for Kids from the City of Reno
Reno's Department of Parks, Recreation and Community Services offers camps for kids of all ages during summer 2018. There are activities and camps geared to kids ages 6 to 12.5, so be sure to check out the City of Reno camp information website to see what's going on. Some of the camps available are Vacation Station, Performing Arts Camp, Outdoor Adventure Camp and Bike Camp. Get details about times, dates, and fees from the Camps for Kids website. Call (775) 334-4280 for more information.
KIDS University at UNR
June 12 - July 27, 2018. Kids University hosts a wide-range of youth camps during the summer and school breaks throughout the year. Choose from themed, weeklong camps designed to incorporate the academic STEAM components — science, technology, engineering, arts and math — with a healthy dose of fun. Camps are taught by certified teachers, graduate students and experts in their fields. Online registration features a full list of camps, dates, times and fees. For more information, call (775) 784-4062 or 1-800-233-8928.
2018 Wolf Pack Sports Camps
Choose from 11 camps in a variety of sports. Boys and girls of all ages and abilities are invited to join Wolf Pack coaches and players for full-day, half-day and overnight camps including baseball, basketball, cross country, football, soccer, softball, tennis, track and field, volleyball and cheer. Each sports has its own information page on the Wolf Pack Camps website. Camps are in June, July and August, 2018.
UNR College of Engineering Summer Camps
Camps run in weekly sessions during June and July, 2019. These are STEM camp opportunities for students ages 12 to 17. Engineering camps provide students with a glimpse into their possible future as engineers through hands-on activities such as building and testing bridges, blasting bottle rockets and more. Visit the website for specific dates and details about each camp. You can register online. Call (775) 327-2256 to request paper forms.
Student Stewards Summer Camp
Truckee Meadows Parks Foundation is sponsoring summer camps based at Idlewild Park in Reno. Camps are for kids 8 to 12 years old. Camps are STEAM based (stands for Science, Technology, Engineering, Art, and Math) and will incorporate all of these things at camp, including science and art projects, hiking, recreation, and weekly topics, all emphasizing fun. Weekly camps run from June 11 through August 3, 2018, with a different theme each week. Monday through Friday, 9 a.m. to 4 p.m., with extended hours available. Online registration is available. (775) 410-1702.
Summer Writing Camp from Northern Nevada Writing Project
June 18 - 22, 2018, 9 a.m. to 3 p.m. Teams of Northern Nevada Writing Project consultants pair up to teach summer writing camps out in the schools or on the UNR campus. Our "Write Stuff" sessions are popular with students who love to write and who want to be around other students with similar interests. The theme is "Immortality, No Vampires Allowed." Camp will be at the Redfield Campus, 18600 Wedge Parkway in south Reno. Visit the website for details on deadlines and payment.
KidScape Productions Summer Camps
KidScape Productions has summer camps in the Reno area during July, 2018. KidScape camps focus on acting, theater and improv comedy. Camps are for kids ages 7 to 17 and include a performance to showcase what was learned. Visit the website for information about times, places and online registration. Call (775) 313-3900 for more information.
Camp Lotsafun
Camp Lotsafun is operated by Amplify Life, a non-profit organization in Reno "dedicated to providing recreational, therapeutic, and educational programs for children, teens, and adults with disabilities." There are Camp Lotsafun events and programs from June through August, 2018, for combinations of children, teens, and adults. Summer camps and activities are held at various locations in northern Nevada and northern California. For more information, call (775) 827-3866.
Camp Wasiu II with Girl Scouts of the Sierra Nevada
Camp Wasiu II is a traditional residential camp located in Sierra City, CA in the Tahoe National Forest, serving girls entering 1st grade up through high school. Girls have the opportunity to participate in canoeing, standup paddleboard, arts & crafts, hiking, campfire, outdoor cooking, disc golf and other fun camp activities. Camp dates are from June through September, 2018. You don't have to be a Girl Scout to come to this camp, you just have to be a girl. Online registration is available. Get the full story from the "2018 Camp Guide." (775) 322-0642.
Bruka Theatre Annual Performing Arts Summer Camp
July 9 - 21, 2018. "The Mystery of Hamlin." Students are led by working theater professionals in classes designed to develop imagination, concentration, and confidence with movement and dance, voice, technique, character, and theatrical design. They will be adapting an original story for public performances. (775) 323-3221.
Young Explorers Summer Break Camp
June 18 - August 3, 2018. Young Explorers will be offering weeklong thematic camps that incorporate science, art, literature, multimedia, and offer plenty of time for hands-on learning and free play. Themes include: Exploring French and France, Pets are the Best, Food Science, Disney is LIFE, Inventor Camp, Into the Jungle, and Under the Sea. Camps are limited to a small group of students ages 6 - 12. (775) 384-1972.
Camp RockSport Climbing Camp
June 18 - August 3, 2018. Featuring week-long full-day or half-day sessions. The curriculum is focused on each camper learning team building skills and gaining self-confidence. Camp is geared for kids of all climbing abilities. Climbers will have the chance to learn more about climbing and belaying, making them self-sufficient gym climbers. Camp is at RockSport Indoor Climbing Gym, 1901 Silverada Blvd. #10 in Reno. (775) 352-7673.
Disney's "The Lion King Kids" Summer Theater Camp
Sunday through Saturday, June 24 - 30, 9 a.m. to 2:30 p.m. A fun summer day camp for aspiring actors, singers, and dancers entering 3rd through 7th grades will be held at the Sparks Museum and Cultural Center, 814 Victorian Avenue. All participants will get a speaking part with all those memorable characters in this thrilling production. Showcase at 5 p.m. on Sunday, July 1 and an encore presentation on Thursday, July 5 at 7:30 p.m. in the Victorian Amphitheater in downtown Sparks. The cost to participate is $225 for the session, which includes two snacks daily.
Camp Mesa Rim
June 11 - 15, 2018. This camp introduces young climbers (ages 7 to 13) to top roping, bouldering, yoga and other activities that build confidence. Under the guidance of experienced camp coaches, campers spend the day climbing and doing yoga. They'll learn how to tie knots, safety techniques, and how to belay other climbers. They'll also play fun, mentally challenging games and do arts and crafts. Camps also run during each of the next 5 weeks, the last being July 23 - 27, 2018. You can sign up online. Camps are at Mesa Rim Climbing & Fitness Center, 970 Harvard Way in Reno. (775) 507-4255.
Camp Invention
June 12 - 15 and June 18 - 22, 2018. Children (K - 6th grade) are presented with fun, hands-on challenges that encourage creative problem solving, teamwork, entrepreneurship, and innovation. Camp invention is led by experienced local educators and new curriculum is introduced each year, inspired by the Inductees of the National Inventors Hall of Fame. The first session is at Van Gorder Elementary School in Sparks, the second at Hunsberger Elementary School in Reno. Visit the website for more information and online registration.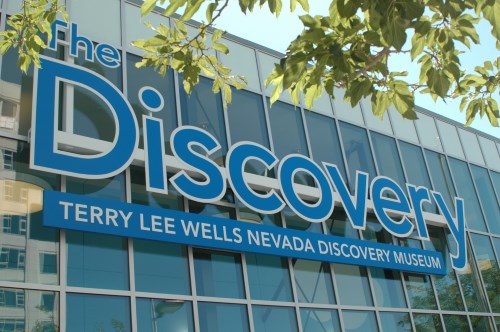 Summer camps at The Discovery in Reno, Nevada. Photo © Stan White
Summer Camps at Lake Tahoe and Other Nearby Areas
Lake Tahoe Music Camp
July 1 - 7, 2018. The 62nd annual Lake Tahoe Music Camp invites middle school through high school student musicians to participate in a week of music-making, workshops, performances, and fun. The overnight camp is held at the Nevada State 4-H Camp in Stateline, Nevada, on the shores of Lake Tahoe. Sessions are conducted by award-winning UNR faculty and regional educators, guest conductors, professional chamber and jazz musicians, and more. Camp brochures and registration information are available online, at UNR School of the Arts/3048, KNPB Building, 1670 N. Virginia Street, or by calling (775) 784-4278. Due to limited space, registrations are accepted on a first-come, first-served basis.
Summer Camps from Tahoe Expedition Academy
For 2018, Tahoe Expedition Academy offers adventure and academic summer day camps for kids age 4 to 14 in Truckee and on Lake Tahoe's north shore. Held in week-long sessions, the summer camps focus on a variety of topics, all with an outdoor focus. Camps will be in June, July and August. They are available for kids ages 5 to 14 and divided by age groups. Call (530) 414-9316 for more information.
Camp Sugar Bowl 2018 summer camps are an opportunity for school-aged children to engage in experiential learning, master outdoor sporting skills and gain a deeper understanding of the natural environment. Camps are tailored to specific age groups ranging in age from 4 to 15. Activities include hiking, rock climbing, kayaking, swimming, mountain biking, nature art, storytelling and yoga. Sugar Bowl Resort's 2018 summer camps run on July 23 - 27, July 30 - August 3 and August 6 - 10. You can register online or call (530) 426-9000. The information phone number is (530) 426-6790.
Sierra Nevada Journeys Summer Camps
Week-long summer camps in 2018 are in June, July and August. Campers will be involved in educational and fun, adventurous activities like outdoor science learning, teamwork, and leadership. Each week offers a different camp theme, from basic summer camp activities to extreme adventures. Camps are held at Grizzly Creek Ranch, 45 minutes north of Reno in Portola, CA. Get all the details from "Sierra Nevada Journeys Summer Camp Family Handbook." For more information, call the Reno office at (775) 355-1688.