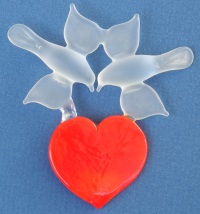 Valentine's Day 2021 is on Sunday, February 14. Reno and Sparks have a number of excellent dining places that will be serving from special menus for you and your sweetheart on Valentine's Day. With a nice range of dishes and prices, there is sure to be a romantic restaurant venue to suit just about every taste and budget.
Valentine's Day Dining Around Reno
Valentine's Day Dinner at Wild River Grille - Sunday, February 14, 2021. The Wild River Grille will serve a four-course dine-in gourmet Valentine's Day dinner for two, with multiple entree choices. It's $149 per couple and includes a glass of champagne and a rose. Seatings available from 4 p.m. to 10 p.m. There is also a take-out menu available at $110 per couple. The Wild River Grille is in Reno's historic Riverside Hotel building, next to the Truckee River at 17 S. Virginia Street. You can reserve a table online or call (775) 284-7455.
Crab & Seafood Feast at The Nugget - Saturday and Sunday, February 13 - 14, 2021. Reservations required and seating and dining times are limited for this tasty meal. You can dine at 5:30 p.m. or 7 p.m. on both days. This is not a buffet - wait staff will serve guests at their tables. Visit the website to choose your dining time and make reservations. 21+ event. The Nugget Casino Resort is at 1100 Nugget Avenue in Sparks. (775) 356-3300.
Valentine's Day Dining at THE ROW - Sunday, February 14, 2021. Both Roxy and La Strada restaurants will be serving special Valentine's Day menus. Each of these has a different atmosphere, but they both have great food. Visit the website for details on menus and costs. The Eldorado is at 345 N. Virginia Street in downtown Reno.
Fun Things to Do for Valentine's Day
For information about even more activities than are listed here, go to "February 2021 Events and Activities in the Reno Region."
Go to the Movies - The movies are always fun and there are plenty of good ones playing at all of the theaters in the Reno / Sparks area. If you haven't been to the IMAX deluxe theater in Sparks, Valentine's Day might be a good time to check it out.
Get Married - If wedding vows are part of your Valentine's Day plans, you'll need a marriage license. "Marriage Licenses in Reno and at Lake Tahoe" tells you how to get the needed paperwork in Reno, areas to the south like Carson City, and up around Lake Tahoe.
Valentine's Day at Lake Tahoe
Valentine's Day To-Go Dinner at Squaw Valley - Sunday, February 14, 2021. Each dinner will be hot and ready to enjoy, and packaged for mess-free transportation home. Place your order by Wednesday, February 10. We are excited to see you on Valentine's Day, February 14, when you come to the Olympic House at Squaw Valley for pick-up. 1960 Squaw Valley Rd., Olympic Valley, CA.
Sponsored Links