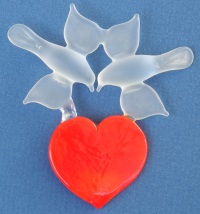 Valentine's Day 2019 is on Thursday, February 14. Reno and Sparks have a number of excellent dining places that will be serving from special menus for you and your sweetheart on Valentine's Day. With a nice range of dishes and prices, there is sure to be a romantic restaurant venue to suit just about every taste and budget.
Valentine's Day Dining Around Reno
"It had to be You" at the Atlantis - Friday and Saturday, February 15 - 16, 2019. Celebrate Valentine's Day with an elegant four-course dinner and dancing featuring Shades of Sinatra. Enjoy a complimentary rose and champagne as you take part in this romantic night to remember. This is a 21+ event. Call (888) 551-7007 or (775) 824-4467 for reservations. Two tickets are $229. Doors open at 6 p.m. The Atlantis is located at 3800 S. Virginia Street in Reno.
Rombauer Vineyards Wine Dinner at the Bonanza Casino - Tuesday, February 12, 2019. Make this a Valentine's Day to remember. The Uncorked & On Tap Wine Dinner Series features Rombauer Vineyards and owner KR Rombauer, for an evening of excellence featuring wines from the vineyard and paired with a five-course meal in the award-winning Cactus Creek Prime Steakhouse. You can make reservations online. The Bonanza Casino is at 4720 N. Virginia Street in Reno.
Valentine's Day Dining at The Nugget - Thursday, February 14, 2019. The Steakhouse will be serving a special Valentine's Day menu with wine pairing. Visit the website for menu details and to make online reservations. The Nugget Casino Resort is at 1100 Nugget Avenue in Sparks. (775) 356-3300.
Fun Things to Do for Valentine's Day
Come in from the Cold - Saturday, February 9 and 16, 2019. Take your sweetheart to a show at this family entertainment series. These family-friendly shows provide welcome relief from the frosty weather during the depths of winter. The Saturday before Valentine's Day show will be performed by Ricochet and the following weekend will feature Richard Elloyan.
"Lost World of Dragons" at the Wilbur D. May Museum - through May 12, 2019. The exhibit is a world of fantasy and adventure for visitors of all ages. Get a thrill from larger-than-life animatronic dragons. Try out a virtual reality experience that lets you ride a flying dragon, and much more. This entertaining and educational exhibit will be at the Wilbur D. May Museum in Rancho San Rafael Regional Park in Reno. It is open Wednesday through Saturday from 10 a.m. to 4 p.m. and on Sunday from 12 noon to 4 p.m.
Go to the Movies - The movies are always fun and there are plenty of good ones playing at all of the theaters in the Reno / Sparks area. If you haven't been to the IMAX deluxe theater in Sparks, Valentine's Day might be a good time to check it out.
Get Married - If wedding vows are part of your Valentine's Day plans, you'll need a marriage license. "Marriage Licenses in Reno and at Lake Tahoe" tells you how to get the needed paperwork in Reno, areas to the south like Carson City, and up around Lake Tahoe.
Wild Winter Weekend at Animal Ark - Saturday and Sunday, February 16 - 17, 2019. Animal Ark is one of two Reno area zoos and wildlife parks. On the weekend following Valentine's Day, you can visit Animal Ark to see lynx, bobcats, cougars, wolves and other wild residents playing in their winter wonderland. Call ahead as adverse weather can alter times or cancel events. Visit the Animal Ark website or "Reno Zoos and Wildlife Parks" for directions and phone numbers.
Lover's Aloft Balloon Festival - February 14 - 17, 2019. Come to Lovelock, Nevada, for this Valentine's Day event. You will enjoy hot air balloon launches, tethered rides, a pancake breakfast, night balloon exhibition, and more. While there, you can lock your love at Lovers Lock Plaza, next to the unique round courthouse. Several nearby businesses sell locks just for this special use. You can even get married in Locelock with a little advance planning. Lovelock is about 90 miles east of Reno / Sparks on I80.
Valentine's Day at Lake Tahoe
MS Dixie II Valentine's Day Dinner Cruise - Thursday, February 14, 2019, 5:30 p.m. to 8:30 p.m. Book this Valentine's Day dinner cruise for the most scenic and romantic setting to be found anywhere in our area. The cruise departs from Zephyr Cove on the Nevada side. You will enjoy appetizers, salads and a choice of three entrees for dinner and a dessert. The cost is $120 for adults, $50 for children. Make reservations online or call (800) 238-2463.