About the Barracuda Championship PGA Golf Tournament
The 19th annual Barracuda Championship will be from Monday, July 31 through Sunday, August 6, 2017. This PGA Tour golf tournament is held at Montrêux Golf & Country Club in the Galena area of south Reno. Barracuda Championship tournament play begins on Thursday, August 3, following the Reno Open.
The Barracuda Championship is a big-time professional sports event. It is the only PGA Tour event played in Reno and one of only 45 PGA Tour golf tournaments in the world.
Top PGA pro golfers play in the Barracuda Championship. Past winners have included Kirk Triplett, Vaughn Taylor, John Cook, Will MacKenzie, John Rollins, Matt Bettencourt, and the 2016 champion Greg Chalmers.
There will be 132 top PGA players competing for a purse of $3.3 million at the 2017 Barracuda Championship. The Barracuda Championship is the only PGA Tour event using the Modified Stableford scoring format, which encourages more aggressive and exciting play.
The Barracuda Championship is preceded by the Reno Open golf tournament, which plays before the Barracuda Championship. Golfers compete for cash, with the 1st Place Grand Prize being an exemption into the 2017 Barracuda Championship.
Things To Do at The Barracuda Championship
While PGA professional golf is the main focus, there are other things for spectators to do while attending the Barracuda Championship, including Women's Day, the Discovery at Barracuda, Coors Light 19th Hole, Wine Walk, party tents, and a big selection of food and drink. There are opportunities to volunteer at the Barracuda Championship for those interested.
Spectating at the Barracuda Championship
Be sure to read the Barracuda Championship "Course Policies and Etiquette" for golf tournament spectators. For more information about dos and don'ts, check out the "Frequently Asked Questions". To ensure a fun and hassle-free experience, spectators need to know the policies about such things as cell phones, cameras, and items you can and cannot bring with you. Check "Security Guidelines" for details.
Tickets for the Barracuda Championship
Barracuda Championship tickets are sold individually and in various packages. For example, a one-day adult general admission pass is $27.25 and a generally admission pass for every day is $59.95. If you want season access to the club house, it's $92.65, and so on. Get details about all the options and purchase tickets online at "Barracuda Championship Tickets". General Admission is free Monday, July 31 through Wednesday, August 2.
Parking and Shuttles at the Barracuda Championship
Public parking at nearby Galena High School is $5 per vehicle. The school is located at 3600 Butch Cassidy Drive. Parking is free if you carpool with 4 or more people in your vehicle or with a donation of two or more non-perishable food items. Free shuttles run to Montreux Golf and Country Club every day of the tournament.
Monday: 8:30 a.m. – 6:00 p.m.
Tuesday: 8:30 a.m. – 6:00 p.m.
Wednesday: 6:30 a.m. – 6:30 p.m.
Thursday: 6:30 a.m. – 6:30 p.m.
Friday: 6:30 a.m. – 8:00 p.m.
Saturday: 6:30 a.m. – 8:00 p.m.
Sunday: 6:30 a.m. – 6:30 p.m.
Preferred and valet parking are also available at extra cost.
Sources: Barracuda Championship and Montrêux Golf & Country Club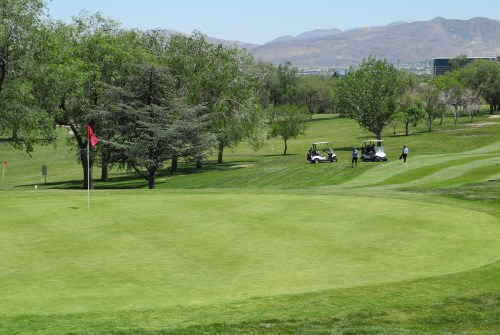 Great golfing on several public golf courses in the Reno / Sparks area. Photo © Stan White