Cinco de Mayo Festival at the Grand Sierra Resort
Saturday and Sunday, April 30 - May 1, 2022. This annual Cinco de Mayo event is northern Nevada's largest celebration of Latino heritage. It will be at the Grand Sierra Resort in Reno, in the southeast parking area. Admission to the event is $20 for adults, $8 for kids under 12 and seniors over 65. Once in, all musical entertainment is free. Hours both days are 12 noon to 8 p.m.
Other Cinco de Mayo events and activities on Saturday and Sunday will include...
Mexican Dancing Horses
Carnival Rides
Amateur Boxing
Mexican Food
Vendors offering specialty items, clothes, art, crafts, community information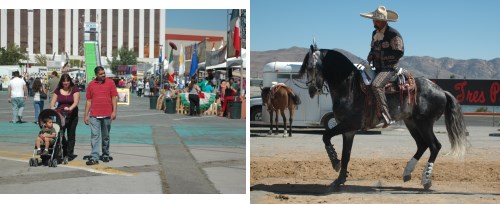 Cinco de Mayo Latino Heritage event at the Grand Sierra Resort in Reno, Nevada.
Wicked Wayz Car Club Cinco de Mayo Ride & Shine
Saturday, May 7, 2022, 8 a.m. to 4 p.m. Wicked Wayz CC invites you to their 3rd Annual Cinco De Mayo Ride & Shine Car Show, where every form of custom cars, trucks and bike cultures at show level will be on display. Join us for a day of family fun. There will be live entertainment, food trucks, Mariachi and more. Free admission, but there is a fee to register vehicles for display and to be judged for trophies. This year's event is a benefit for Jemere Reid family (Jemere died in a tragic work accident). At the Bonanza Casino, 4720 N. Virginia Street in Reno.
Cinco de Mayo Dance for All
Sunday, May 1, 2022, 2 p.m. to 4 p.m. The City of Reno and City of Sparks collaborate for a dance series for teens and adults with disabilities. This Cinco de Mayo dance will be at the McKinley Arts and Culture Center, 925 Riverside Drive in Reno. Admission is $3.
Sponsored Links
Sponsored Link