Update: Play has been suspended until further notice due to the coronavirus situation.
About Reno 1868 FC Soccer Team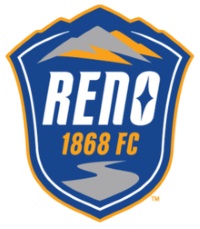 Reno 1868 FC is a professional soccer team in the United Soccer League, a Division II league under Major League Soccer (MLS) in North America. Games are played at Greater Nevada Field, home to the Reno Aces baseball team. Reno 1868 FC is affiliated with the San Jose Earthquakes of MLS.
As you may know, the word "football" refers to soccer just about everywhere else in the world except the United States. The name for Reno's pro soccer team uses the year Reno became a city and FC for "football club."
2020 Reno 1868 FC Home Game Schedule at Greater Nevada Field
Saturday, February 29 - San Diego Loyal
Saturday, March 14 - OKC Energy FC
Saturday, March 28 - Portland Timbers 2
Saturday, April 4 - Las Vegas Lights FC
Saturday, May 2 - El Paso Locomotive FC
Saturday, May 23 - FC Tulsa
Saturday, June 6 - Rio Grande Valley FC Toros
Saturday, June 20 - New Mexico United
Friday, July 3 - LA Galaxy II
Wednesday, July 15 - San Antonio FC
Saturday, July 18 - Colorado Springs Switchbacks FC
Saturday, August 1 - Real Monarchs SLC
Saturday, August 15 - Orange County SC
Saturday, August 29 - Austin Bold FC
Saturday, September 5 - Tacoma Defiance
Saturday, September 19 - San Diego Loyal
Saturday, October 3 - Phoenix Rising FC
Saturday, October 10 - Sacramento Republic FC
Reno 1868 FC Home Game Tickets
Online tickets for home games are available online. Here you will find choices including single game tickets, group tickets, memberships and information about game day experiences for fans. For ticket information, call (775) 334-4700. For other information about the team, memberships, special deals and promotions, go to the official Reno 1868 FC website.
Sponsored Links