Snakes are the animals everyone lives to hate, but they are fascinating creatures and you can learn their ins and outs at the "Sssnakes Alive!" exhibit at Reno's Wilbur D. May Museum. Crawl on over from January 9 through April 10, 2016.

"Sssnakes Alive!" is an interactive exhibit that explores the world North America's four indigenous venomous snakes - copperhead, cottonmouth, coral, and rattlesnake. We're talking 20 live venomous snakes along with interactive stations and imaginative displays.
A suspension bridge over a pit filled with live rattlesnakes.
Step into the dark recesses of a rattlesnake den.
Crawl through a 25-foot model snake for an inside view of how snakes work.
Test your reflexes in a simulated bite station and see how fast snakes are.
See the world through infrared snake vision.
Visitors will also discover snakes in world mythology, ancient beliefs and cultural relationships with snakes, snake evolution and biology, the benefits of snakes, and snakebite first aid. The Museum will host a variety of special events throughout the exhibition, including lectures, animal encounters, photo opportunities, kids activities, and more.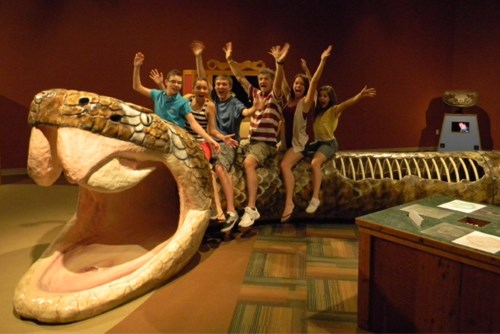 The entry fee to Sssnakes Alive! is $9 for adults, $8 for children and seniors. Group rates and tours are available. Call (775) 785-5961 or (775) 785-5961 for more information. Hours at the Wilbur D. May Museum are Wednesday through Saturday from 10 a.m. to 4 p.m. and Sunday from 12 noon to 4 p.m. The museum is closed on Monday and Tuesday.
The Wilbur D. May Center is located in Rancho San Rafael Regional Park at 1595 N. Sierra Street in Reno. There is plenty of free parking right next to the museum.
Source: Information and images courtesy Washoe County Regional Parks and Open Space.
Sponsored Links
Sponsored Link