Update - As far as I can tell, the Tour de Nez has been cancelled with no date, if any, being contemplated for a revival. Should this change, I'll let you know right here.
The 2017 Tour de Nez will be on Saturday, June 10. The Tour de Nez has become one of Reno's signature events. It is the combination of a professional bicycle racing criterium through downtown Reno, championship handcycle racing, and various other events and activities open to all comers. While all this is going on, you can enjoy a great street party as well.
The Tour de Nez brings top pro riders to Reno and there are races for both men and women. This is serious stuff, with prize money and recognition on the USA Cycling calendar. Other bicycle racers can also participate - aspiring pros, nationally-ranked amateurs, handcycle racers and any rider who wants to see how they do in a real race.
Registering to Race at the Tour de Nez
There are two racing categories where riders can register online. Other community participation events, like the Kids Race and Vintage Bike Lap for bikes 25+ years old, don't require advance registration and participation is free.
Spectating and Parking at the Tour de Nez
The Tour de Nez start/finish is on California Street. The course makes a mile loop - right on Flint Street, right on Court Street, right on Hill, left on Ridge Street, right on Sierra Street, right on California Avenue back to the start/finish. You can get close to the action all along the route, but be careful and mind the course marshals so no one gets hurt. The riders are really moving. This same course route will be used for handcycle racing, the Klunker Classic, and Kids Race.
If you have a favorite race or just want to know what is happening and when, refer to the Tour de Nez race schedule.
The easiest place to park that's close to the course is the big Washoe County parking lot across from the old Court House and between Virginia and Sierra Streets. Parking here is free on weekends, whereas street parking is metered and not free on Saturdays. Please try to use this lot so street parking for area businesses doesn't get clogged up. Get more parking information from "Where to Park in Downtown Reno."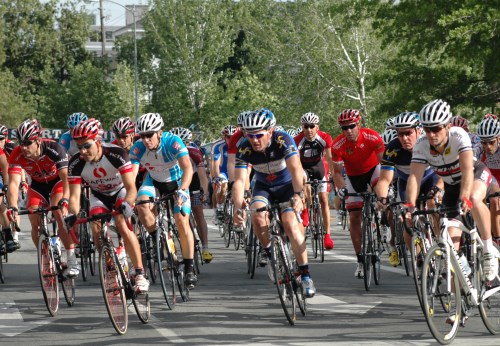 Start of the Tour de Nez criterium bicycle race in Reno, Nevada. Photo © Stan White
Tour de Toes 5K
The Tour de Toes 5K is to celebrate the 25th Anniversary of the Tour de Nez. This unique footrace will follow the Tour de Nez criterium course covering just under 5 laps. The race benefits Tour de Nez Outreach. Runners and walkers of all ages and abilities are welcome to participate. The 5K will be chip timed and all participants get a Tour de Toes T-Shirt and a free post-race beer (21+ with valid ID). Visit the website to get entry fee details and to register online.
The supporting organization is Tour De Nez Outreach.
Sponsored Links
Sponsored Link