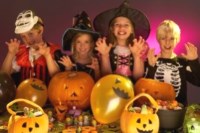 Halloween is a big deal in Reno and Sparks. That means there are numerous events and activities for kids and families, many of which are free (or inexpensive). For trick-or-treating, there are choices that are fun and safe alternatives to the traditional dash between houses out on the public streets.
Animal Ark Harvest Festival
Saturday and Sunday, October 23 - 24, 2021. As part of our behavioral enrichment program, some of the animals will receive pumpkins filled with their favorite treats. Watch the enjoyment experienced by our predators when presented with these unique and delicious treats. Throughout each session, pumpkins will be delivered to different animals. Be sure to bring the camera for animal viewing at its finest. Adults $20; Seniors $19; Children $16. There will be a morning and afternoon session each day. Reservations required. Animal Ark is at 1265 Deerlodge Road, off of Red Rock Road in the Stead area of Reno. (775) 970-3111.
Pumpkin Palooza
Saturday, October 23, 2021. 10 a.m. to 6 p.m. Saturday, 10 a.m. to 4 p.m. Sunday. - The event features affordable and wholesome events for all ages. It is home to Nevada's only Pumpkin Derby, where families create custom pumpkins on wheels to race them down a specialized ramp. PumpkinPalooza also features a Midway with more than 20 homemade carnival-style games, 70+ vendors and food trucks, the Purple Pumpkin Pursuit, and live entertainment. New in 2021, PumpkinPalooza will also featurea pet costume parade, vendor trick or treating, rides, the Great Mask-A-Rade, and the Pumpkin Design Studio, where families can decorate pumpkins to be part of Nevada's first ever Pumpkin Wall. Go to the PumpkinPalooza website for more details and online tickets. The event is at Victorian Square in Sparks.
Trunk or Treat at St. Lukes Lutheran Church
Sunday, October 24, 2021, 5 p.m. to 7 p.m. Free. All are invited to join in the fun for an evening of costumes, cars, candy, and fun as we welcome our local community for a safe trick or treating event. Enjoy free hot dogs and chips for the first 500 people. Children are encouraged to dress up and must be accompanied by an adult. 3835 Lakeside Drive in Reno.
Hallo-Week Pumpkin Hunt
Monday through Friday, October 25 - 29, 2021, 4 p.m. to 6:30 p.m. Join us for a family friendly pumpkin hunt through the Wilbur D May Arboretum. Pick up a map at the south entrance gate and use clues to find all the pumpkins hidden around the arboretum. Uncover the secret word and earn a prize. Costumes not required but are encouraged. The May Arboretum is in Rancho San Rafael Regional Park at 1595 N. Sierra St. in Reno.
The Discovery's 10th Annual Trick or Treat
Saturday, October 30, 2021 - Visit the Discovery Museum in costume and trick or treat from gallery to gallery. (For the safety of all museum visitors, no costumes with weapons of any kind are allowed.) There will be spooky decorations and delicious treats for all of the friendly or scary ghosts, ghouls and goblins who dare to attend. Advance tickets required. The cost is $3 for member children and $2 for adults, $4 for non-member kids and $3 for adults. Members only will have exclusive entry from 10 a.m. to 12 noon. Everyone else gets in from 12 noon to 6 p.m. Masks required for all visitors age 5+, regardless of vaccination status.
This Halloween Trick or Treat event participates in the Teal Pumpkin Project. A number of the trick-or-treat stations will offer non-food items for kids with food allergies, as well as other children for whom candy is not an option.
HOWL-oween - Safe Trick or Treating at Nevada Humane Society
Sunday, October 31, 2021, 3 p.m. to 5 p.m. Volunteers will be dressed up in their spooky costumes and stationed next to their vehicles (which will also be decked out for Halloween) in our parking lot. Each vehicle's trunk will be popped and full of candy. We want to give kiddos in the community an opportunity to dress up, show off their costumes and safely experience trick-or-treating with their families. The event will be at 2825 Longley Lane in Reno.
Trunk or Treat at Covenant Presbyterian Church
Sunday, October 31, 2021, 2 p.m. to 4 p.m. Free. The fun starts off as cars with decorated trunks line up in the church parking lot. Children come to the church parking lot to "trick-or-treat" vehicles instead of houses. 6695 Mae Anne Avenue in Reno.
Trick or Treat in the Streets of the National Automobile Museum
Sunday, October 31, 2021, 2 p.m. to 5 p.m. - Family Halloween fun at the National Automobile Museum in Reno, with candy stations and games. Special admission for this spooky event is $3 for children, $2 for adults. There is a costume contest at 5 p.m. The Museum is at 10 South Lake Street, next to the Truckee River. Parking is free. (775) 333-9300.
Trunk or Treat at Reno Town Mall
Saturday, October 30, 2021. Bring the kids to Reno Town Mall for safe and free trunk or treating from 5 p.m. to 10 p.m. The Reno Town Mall is located at 4001 S. Virginia Street, across from the Reno-Sparks Convention Center.
Boo at the Zoo
Every weekend in October, 2021, 10 a.m. to 5 p.m. Join us for some good fall fun. Activities include 20 foot Tiger Slide, jungle adventure, cow milking simulator, duck racing, hay maze, ball pit and more. The cost is $13 for kids 3 to 12, standard rates for adults. Event is at Sierra Nevada Zoological Park, 10200 N. Virginia Street in Reno / Stead. (775) 677-1101.
Spookaroo at the Zoo
Friday and Saturday nights, October 22 - 23 and 29 - 30, 2021, 7 p.m. Take a flashlight tour of the grounds to see the animals in the night. Beware, there may be more than one type of creature in the light, some may even give you a fright. Admission is $15 per person, ages 13 and up. Event is at Sierra Nevada Zoological Park, 10200 N. Virginia Street in Reno / Stead. (775) 677-1101.
Halloweekend at Homewood
Thursday through Sunday, October 21 - 24, 2021, 3 p.m. to 9 p.m. Activities for the entire family. Pumpkin painting, face painting, pin the boo on the ghost, pumpkin tic-tac-toe, trick-or-treat village, haunted house and more. Plus, enjoy chairlift rides all day long, but rider beware, the chairlift is haunted after 7 p.m. From 7 p.m. to 9 p.m. The festival is free, but you need tickets for the chairlift rides and haunted hous. Homewood Mountain Resort is on Lake Tahoe's west shore at 105 Tahoe Ski Bowl Way.
Trunk or Treat at Sparks United Methodist Church
Friday, October 29, 2021, 4 p.m. to 6 p.m. Admission is free to the Sparks United Methodist Church trunk or treat event. The church is at 1231 Pyramid Way in Sparks. For more information, call (775) 358-0925.
Trunk or Treat at St. John's Presbyterian Church
Thursday, October 28, 2021, starting at 4:30 p.m. Kids are invited to come in costume and trick or treat from trunk to trunk outside in the church parking lot. One person at each trunk will hand out the candy. COVID protocols will be observed, with social distancing as much as possible. If distance cannot be maintained, please wear a mask. St. John's is located at 1070 W. Plumb Lane in Reno.
Trunk or Treat at Bethel AME Church
Sunday, October 31, 2021, 5:30 p.m. to 8 p.m. Free and open to everyone. This is a celebration of Harvest Day. In cooperation with the Sparks PD. There will be a photo booth for individual and family pictures. Everyone asked to social distance and wear masks. At the church at 2655 N. Rock Blvd. in Sparks. If families in Sparks (near the church) would like to decorate their car and fill its trunk with candy to participate in the event, please call (408) 726-7200.
Trick or Treat at Scheels
Friday, October 29, 2021, 5 p.m. to 7 p.m. There will be a digital costume contest and plenty of candy for kids of all ages. Tables will be located throughout Scheels for proper Trick-or-Treating. The Scheels store is at 1200 Scheels Dr. in Sparks. (775) 331-2700.
Trunk or Treat at Hope Community
Sunday, October 31, 2021, 6 p.m. to 9 p.m. It's that time of year when we do our Trunk-or-Treat for the community. Cars will be decorated and themed out with fun activities for families the night of the event. At Cyan Park, 2121 Long Meadow Drive in Reno.
Hauntober in Virginia City
Month of October, 2021. As one of the most haunted destinations in the country, Virginia City is the perfect place to get spooked this October. Celebrate the supernatural and all things unexpected with an entire month of events including ghost tours, haunted ghost town, escape room, safe trick-or-treating, a goblin parade, pumpkin patch trains, and several events for adults.
Hauntober Halloween Parade in Virginia City
Sunday, October 31, 2021, 5 p.m. to 6 p.m. Come march the streets of Virginia City in your best Halloween garb and be prepared to scare. Stick around for safe trick-or-treating after the parade at the many shops along the boardwalk.
Trick-or-Treat at the Governor's Mansion in Carson City
Sunday, October 31, 2021, 5 p.m. to 8 p.m. Governor Steve Sisolak and First Lady Kathy Sisolak will host trick or treating at the Governor's Mansion, 606 Mountain Street in Carson City. Entertainment includes Controlled Burn fire dancers. Masks required to get a photo with the Sisolaks.
Fright Night Film Fest
Sunday, October 31, 2021, 7 p.m. to 10 p.m. At the National Automobile Museum in Reno. The Cordillera International Film Festival presents Fright Night, including refreshments, spooky short films, Killer Costume Contest with more that $1,500 in prizes, guided Haunted Hollywood Museum Tour and more. Tickets are $20 and available online.
Halloween Hangout from National Geographic Kids
Halloween Hangout is a fun online collection of activities for kids. Get costume ideas, play games, check out cool photo galleries, watch spooky videos, get jack-o'-lantern carving tips, and more.
More Halloween Activities
Sponsored Links
Sponsored Link