Easter Sunday in 2023 comes on April 9, but almost all Easter egg hunts in the Reno area are on Saturday, April 8. Any exceptions will have the date listed. The hunts are free unless otherwise noted. Listed here are the Easter egg hunts we know about. If you know of others, please let us know with our Contact Us email form.
For a delicious Easter meal, be sure to check out "Easter Dining in Reno and Sparks."
Easter Egg Hunts
EggFest 2023 - Saturday, April 1, 2023, 9:30 a.m. to 12 noon. We will be holding this free community event for everyone who enjoys the outdoors, egg hunting, sweets and people. There will be lots of eggs, candy, face painting, petting zoo and more. At Lazy 5 Regional Park, 7100 Pyramid Way in Sparks. Sponsored by Summit Christian Church, 7075 Pyramid Way in Sparks.
Biggest Little Easter Egg Hunt and Resource Fair - Saturday, April 1, 2023, 9 a.m. to 1 p.m. Join us for an Easter egg hunt for children 12 and under. There will be tasty treats, music, games, and more. In addition, will be an adapted egg hunt at 10 a.m. for those with disabilities and/or sensory sensitivities. More activities are planned this year, including games, face painting and pictures with Mr. and Mrs. Easter Bunny. Parents can take advantage of free dental screenings for their children, as well as vaccinations. Free at Boys & Girls Club of Truckee Meadows, 2680 9th Street in Reno. Sponsored by For Kids Foundation and others. (775) 225-2689.
Eggstravaganza at St. Luke's Lutheran Church - Saturday, April 1, 2023, 10:30 a.m. to 12:30 p.m. This all-ages egg hunt and color run event will feature live music, food trucks, family fun, and an awesome, unique egg hunt. While the children hunt for eggs, color powder will fly through the air decorating their clothing with a rainbow. Children are encouraged to wear white clothing that can get dirty to fully enjoy this experience. Egg hunters will be split into groups based on age with hunting times staggered. St. Luke's is located at 3835 Lakeside Drive in Reno.
Living Stones Church Easter Egg Hunts - Saturday, April 1, 2023, 9:30 a.m. to 11:30 a.m. Every year Living Stones Sparks chooses a handful of parks to host massive egg hunts. It's a fun and free activity for the families throughout our city. This year, the hunts will be at...
Eagle Canyon Park, Spanish Springs
Del Cobre Park, Wingfield Springs
Pah-Rah Park, Vista & Los Altos
Willow Creek Park, Prater & Sparks
The Great Egg Race - Saturday, April 1, 2023, 9 a.m. to 11:30 p.m. Free Easter Egg Hunt for our community. There will be pictures with the Easter Bunny, inflatables, food, crafts, egg hunts for all ages and more. 10300 Rio Wrangler Parkway in south Reno. For more information, contact sponsor LifeChurch at (775) 852-3833.
Easter Egg Hunt at Andelin Family Farm - Friday and Saturday, April 7 - 8, 2023, 11 a.m. to 4 p.m. each day. Children will receive a basket to find their eggs and then at the end, they can exchange baskets for bags to take their goodie-filled eggs home. Kids can collect a total of 12 eggs. The egg hunt is $6 per child with an add-on of admission into the Baby Animal Days and Tulip Festival. Tickets with egg hunt times available online. The farm is at at 8100 Pyramid Way in Spanish Springs.
Easter Egg Dash - Saturday, April 8, 2023, 9 a.m. to 10:30 a.m. Join us at 9 a.m. for a pancake breakfast, lawn games and some raffle giveaways with an egg dash to follow for kids nursery schoot to 5th grade at 10 a.m. on the pad at the church. Hope Community Church is at 755 Trademark Drive in Reno. For more information, call (775) 284-4673.
Easter Egg Hunt at St. John's Presbyterian Church - Sunday, April 9, 2023. All children are welcome to join this hunt for plastic eggs filled with candy. Bring your own Easter basket or bags will be provided. 9 a.m. for kids 6 and younger, 9:15 a.m. for children 7 and older. Worship service at 10:30 a.m. St. John's is located at 1070 W. Plumb Lane in Reno. (775) 826-0990.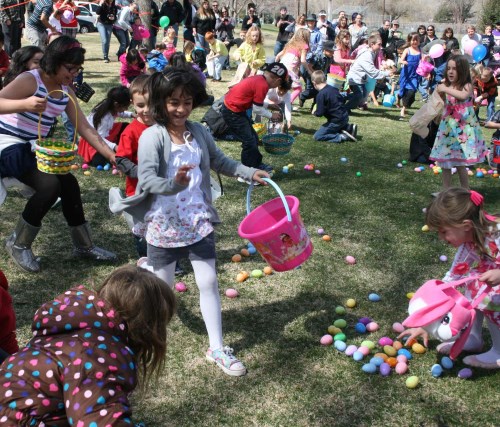 Easter Egg Dash at Idlewild Park in Reno.
Easter Eggstravaganza at the Zoo - Saturday and Sunday, April 8 - 9, 2023, 10 a.m. to 12 noon. Egg hunt at the zoo (Sierra Nevada Zoological Park). There will be a special location for young children (1 to 3) to search for eggs. Please bring your own basket for egg collection. Regular Zoo admission applies ($12 each adult and $8 each child aged 3-12). The zoo is at 10200 N. Virginia St. in the North Valleys.
Easter Market and Egg Hunt at RED - Saturday, April 8, 2023, 12 noon to 4 p.m. Bring your family and friends for this free Easter event. Free pictures with the Easter bunny, egg hunt, food trucks, and local vendors. Located at RED Welcome Pavilion (Reno Experience District), 2072 Experience Way.
Spring Eggstravaganza at the Nevada State Railroad Museum in Carson City - Saturday and Sunday, April 8 - 9, 2023, 10 a.m. to 4 p.m. This event will feature motor car rides (regular price applies), Easter egg hunts (separated by age) around the property, coloring and activities in the museum, and lots more. Regular admission applies. The Nevada State Railroad Museum is at 2180 S. Carson Street in Carson City.
Easter Egg Hunt at Washoe Lake State Park - Saturday, April 8, 2023, 2 p.m. to 3 p.m. Come and enjoy the free festivities and see the Easter Bunny at Washoe Lake State Park. Easter bunny arrives at 2 p.m., egg hunt begins at 2:30 p.m. Park entrance free for this event. Plan to arrive early as parking fills quickly. Food and drinks will be available for purchase. Fun for the entire family hosted by the South Valley Volunteer Fire Department, which is asking for a donation of $5 or more to help cover costs.. The park is in Washoe Valley at 4855 East Lake Boulevard. If traveling from the Reno area, look for signs to the park at freeway Exit 44 at the south end of Washoe Valley. Meet at the group use pavilion. Park entrance is free for this event. Call (775) 687-4319 for more information.
Easter Egg Hunts around Lake Tahoe
Spring Eggstravaganza in Tahoe City - Saturday, April 1, 2023. This free event features lots of golf ball "eggs" to hunt, pictures with the Easter Bunny and more. For kids of all ages. The Easter Bunny arrives at 9:45 a.m. and the hunt begins at 10 a.m. At the Tahoe City Golf Course, 251 North Lake Blvd. (530) 583-3440.
Heavenly Village Easter Egg Hunt - Sunday, April 9, 2023, 10 a.m. Kids 12 and under try to find over 15,000 candy and toy-filled eggs sprinkled around the village, including $1,000 in cash prize eggs. After this eggs-capade, enjoy Brunch with the Easter Bunny or even try creating your own at their Build a Bunny workshop. Tickets are $5 per child. The Shops at Heavenly Village, South Lake Tahoe, CA.
Easter and Golden Egg Hunt at Palisades Tahoe - Sunday, April 9, 2023. Our annual Golden Egg Hunt is back. Follow along online throughout the day as we give out clues on where we've hidden the Golden Egg for a chance to win a 2023/24 season pass. There will also be a children's egg hunt on each mountain.
Easter Brunch and Egg Hunt at Gar Woods - Sunday, April 9, 2023. Gar Woods in Carnelian Bay will be hosting an Easter egg hunt for children beginning at 11:00 a.m. on Easter Sunday. The popular hunt event for adults ages 21 and over will start at 11:30 a.m. Brunch will be available from 9:30 a.m. to 2:30 p.m. 5000 North Lake Boulevard, Carnelian Bay, CA. Reservations recommended. (530) 546-3366.
Sponsored Links
Sponsored Link