Our Reno and Sparks public swimming pools get busy when the heat cranks up. The hot months are when the seasonal outdoor swimming pools are open, along with indoor pools open year round. If you like it a little more rustic, try some of the outdoor water play places we have in the Truckee Meadows.
Public Swimming Pools in Reno
The City of Reno has four public swimming pools. Two pools are outdoors and only operate during the summer months. Reno also offers swimming lessons, water fitness, and aquatic training and certifications. For more information, visit City of Reno: Aquatics or call (775) 334-2262.
Idlewild Pool - 1805 Idlewild Drive in Idlewild Park. (775) 334-2267. The summer schedule runs from June 10 to August 13, 2023. The pool is 50 meters long and features 8 lanes, two boards, and a tot pool. Public swimming, lessons, and adult swim clinics are available. Refer to the Idlewild pool schedule for information about available activities, fees, and hours.
Northwest Pool - 2925 Apollo Way. (775) 334-2203. The summer season is from June 10 through August 13, 2023. Refer to the summer schedule for hours and other details. There are two indoor pools at this location. The main pool has eight 25 yard lanes. The training pool is 30 by 60 feet with a maximum depth of 3 feet.
Evelyn Mount Northeast Community Center Pool - 1301 Valley Road. (775) 334-2262. The summer pool schedule is from June 10 to August 13, 2023. The main pool offers four 25 yard swim lanes and a maximum depth of five feet. The pool is heated to 86 degrees. Amenities include free day-use lockers, showers, kick-boards and paddles supplied on request for lap swimmers.
Traner Pool - 1600 Carville Drive. (775) 334-2269. The summer season is from June 10 to August 13, 2023. Outdoor pool is 25 yards long with a double flume slide and a water playground. Maximum depth is 10 feet. See the Traner Pool schedule for more details.
Reno Parks with Water Play Features - The following Reno parks have water play features that operate during the summer months.
Cyan Park
Idlewild Park
Las Brisas Park
Panther Valley Park
Pat Baker Park
Silver Lake Park
Summit Ridge Park
Wheatland Park
Yori Park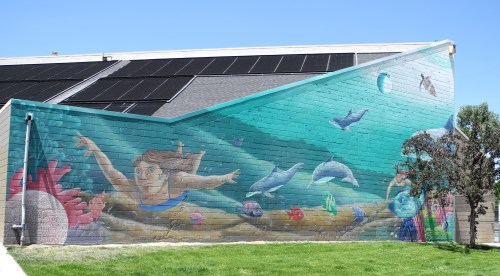 Idlewild Pool in Reno, Nevada. Photo © Stan White
Public Swimming Pools in Sparks
Sparks Parks and Recreation operates three public swimming pools, two of which are outdoor pools that operate on a seasonal basis during the summer months. Pools in Sparks offer a full range of activities, including open swimming, swimming lessons, water fitness, aquacize, lifeguard training, adapted aquatics, and more. For more information, call (775) 353-2376.
Alf Sorensen Community Center Pool - 1400 Baring Boulevard. Indoor heated pool is open year round. There is always something going on. The pool is available for birthday pool parties. In addition to the main pool, the facility offers a gym, tot pool, fitness center and meeting rooms. Be sure to visit the website for details about fees, open times, and various offered activities. (775) 353-2385.
Deer Park and Pool - Heated outdoor seasonal pool at 1700 Prater Way. Recreational swim is offered in 2023 starting on Saturday, May 27. It is open most days through September 4, 2023 - visit the website for a list of hours and open days. For information, call (775) 353-2376. On Almost Free Tuesdays, everyone can swim for just $2.
Swimming at Sparks Marina Park - 300 Howard Drive. Recreational swimming is permitted in the designated swim area at the north beach only (weather permitting) during the summer months when lifeguards are on duty. For 2023, the beach is open beginning June 27, Wednesdays through Sundays from 1 p.m. to 7 p.m. For everyone's fun and safety, you are asked to observe a few rules...
Children under eight years of age must have an adult with them in the designated swim area at all times. Keeping your child within an arm's length is a good policy to follow.
Toys, rafts, noodles, etc. cannot be used in place of swimming ability or for water safety purposes.
Groups of 25 or more must make a reservation.
Shade areas are first-come, first-served unless they are rented.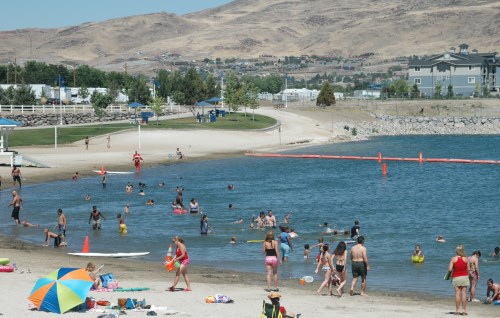 Public swimming area at Sparks Marina Park. Photo © Stan White
Other Pools and Water Play Places around Washoe County
Bowers Mansion Pool - opening for summer on Saturday, June 3, 2023. The public swimming pool at Bowers Mansion Regional Park is open during the summer season from early June to early September. This unique and historic outdoor pool is heated by a natural hot spring and is kept between 78 and 83 degrees. There is a wading pool for kids 6 and under. The pool is open from 11:30 a.m. to 5 p.m. Monday through Friday and the same on weekends. Check the website for pre-season and post-season swim days. Swimming lessons are also available. Bowers Mansion Regional Park is located in Washoe Valley, about 21 miles south of Reno on U.S. 395 / I580. For more information about pool operations, call (775) 849-0644.
Wingfield Park in Reno - The Truckee River flows in two channels through Wingfield Park, creating Belle Isle in the heart of downtown Reno. In the river itself and around the island is the Truckee River Whitewater Park, a man-made but natural looking attraction for kayakers, tubing, rafting, swimming and water play. Wingfield Park and the river are popular during the hot summer months, drawing locals and visitors alike to cool off right in the middle of town. All of this is free and open to the public. In June, Wingfield Park is the site of the Reno River Festival. Other events are held here as well.
Whitewater Park at Rock Park in Sparks - Rock Park sprawls along the north bank of the Truckee River, with shade trees, picnic areas, walking and biking path, restrooms, playground, and a whitewater park similar the the one upstream in Reno. There is parking inside the park. Rock Park's whitewater park has proven to be a popular spot on hot summer days. The whitewater features aren't quite as big as those in Reno, making this a great place for kids to have fun playing in the Truckee River. (775) 353-2376.
North Valleys Water Splash Park is at North Valleys Regional Park. Opens for summer on Saturday, June 3, 2023. This park features over 20 water features and more than 60 spray heads. Admission is $5 per person per day. Kids 2 and under and seniors 62 and over are free. There are 3 covered pavilions available to rent for parties. Call (775) 823-6501. The park is at 8085 Silver Lake Road in Stead. (775) 971-3047.
Melio Gaspari Water Play Park is at Lazy 5 Regional Park, 7100 Pyramid Way in Spanish Springs. Opens for the 2023 summer season on Saturday, June 3. Admission is $4 per person per day. Kids 2 and under and seniors 62 and over are free. Lots of water play features to entertain the kids. There are 2 covered pavilions available to rent for parties. Call (775) 823-6501. Check the website for hours and periods when the park is only open on weekends - (775) 424-1865.
Sand Harbor State Park and Beach at Lake Tahoe - Sand Harbor offers a number of family-friendly recreational activities, including long sandy beaches, swimming, a boat launch, picnicking, group use areas, hiking, watercraft rentals and tours, scuba diving, and restrooms. This is a great place to visit during the hot days of summer, but it is real popular and gets crowded. Be sure to read my Sand Harbor article for information about parking and the shuttle bus service from Incline Village.
Wild Island Family Adventure Park - The Water Park and other attractions are open for the 2023 season. Wild Island has the only big water park in the area, complete with huge water slides for big kids to more tame features for little kids. Food, drink, a gift shop, and even a bar for those 21+ are available in the park. Other attractions that operate all year include Coconut Bowl, High Ballocity, Laser Mazes, Pirate Cove Black Light Mini Golf, Go Karts, and Outdoor Mini Golf. Wild Island is at 250 Wild Island Ct. in Sparks. The info phone is (775) 359-2927.
Pyramid Lake - This beautiful desert lake is a popular summer swimming, boating, and fishing spot. Most areas designated for camping, fishing, boating, swimming, and other activities are along the west shore. Pyramid Lake is completely within the Pyramid Lake Paiute Tribe Reservation and all recreational activities require a tribal permit. Permits can be purchased online, from outlets in Nixon and Sutcliffe, the Sutcliffe Ranger Station, 2500 Lakeview Drive, Sutcliffe, NV 89510, or at a number of vendors around the area.
Sponsored Links
Sponsored Link