Truckee Meadows Parks Foundation is leading Discover Your Parks Series in different parks located in Washoe County. This is a free program of all-ages events that aims to engage and uplift the community through arts, education and recreation in our local parks. Capacity is limited and you must register online from the website for each program.
You can also virtually visit several popular parks and trails with guided hike presentations at "Virtual Guided Hikes" on the TMPF website.
2023 Discover Your Parks Series
March
3/25: Sun Valley Regional Park
April
4/29: Rosewood Nature Study Area
May
5/28: Free community yoga at Idlewild Park
June
6/18: Plant walk in the Park at Davis Creek Regional Park
July
7/21: Art Town in the Park at Oxbow Nature Study Area
August
8/16: Poetry in the Park at Crystal Peak Park
September
9/10: Family Birding at Swan Lake
October
10/27: Bower's Mansion Tour at Bower's Mansion Regional Park
November
11/4: Photography Challenge at Rancho San Rafael Wilbur D. May Arboretum
Virtual Discover Your Parks Walks
Here are the available virtual guided hike presentations. Visit the Truckee Meadows Parks Foundation website for additional details. The contact phone number is (775) 410-1702.
Glendale Park
Mayberry Park
Lockwood Park: Loop Trail
Rainbow Ridge Park
Deer Park
Cottonwood Park
More Reno Area Hiking and Walking Trails
You can, of course, strike out on your own on any of numerous other hiking and walking trails in the Reno area. To learn about some of these, refer to...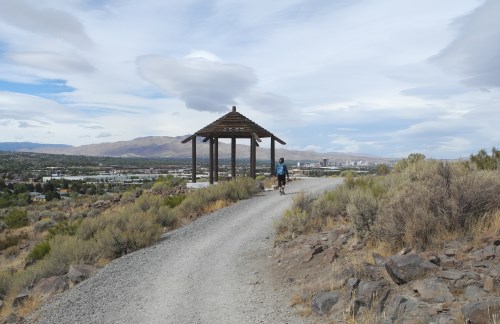 You get nice views when hiking along the Huffaker Park Lookout Trail is south Reno, Nevada. Photo © Stan White
Source: Truckee Meadows Parks Foundation.
Sponsored Links
Sponsored Link