Update: There will be no 2021 in-person Discover Your Parks Walks. Instead, you can virtually visit several popular parks and trails with guided hike presentations at "Virtual Hikes" on the TMPF website.
2021 Virtual Guided Hikes
Here are the available guided hike presentations. Visit the Truckee Meadows Parks Foundation website for additional details. The contact phone number is (775) 410-1702.
Glendale Park
Mayberry Park
Lockwood Park: Loop Trail
Rainbow Ridge Park
Deer Park
Truckee Meadows Nature Study Area
Cottonwood Park
More Reno Area Hiking and Walking Trails
You can, of course, strike out on your own on any of numerous other hiking and walking trails in the Reno area. To learn about some of these, refer to...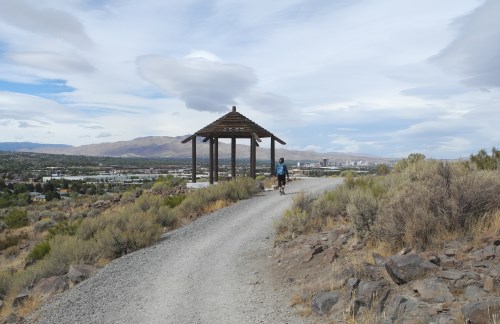 You get nice views when hiking along the Huffaker Park Lookout Trail is south Reno, Nevada. Photo © Stan White
Source: Truckee Meadows Parks Foundation.
Sponsored Links