The Nutcracker at the Pioneer Center
Friday through Sunday, December 13 - 15, 2019. The stage at the Pioneer Center for the Performing Arts will be alive with a sugar plum fairy and dancing mice as A.V.A. Ballet Theatre presents the annual Nutcracker Ballet, with Tchaikovsky's music by the Reno Philharmonic Orchestra. A special Sugar Plum party will be held after the Saturday and Sunday afternoon performances where children can meet the Nutcracker characters.
Performance times will be Friday, December 13 at 8 p.m., Saturday, December 14 at 2 p.m. and 8 p.m., and Sunday, December 15 at 1 p.m. and 7 p.m. Tickets prices start at $29, with discounts for seniors and children. For tickets by phone, call (775) 434-1050 or purchase tickets online by visiting the website. Box office hours are Monday through Friday, 11 a.m. to 6 p.m. and two hours prior to a show. Box office phone is (775) 686-6600. The Pioneer Center is at 100 S. Virginia Street in downtown Reno.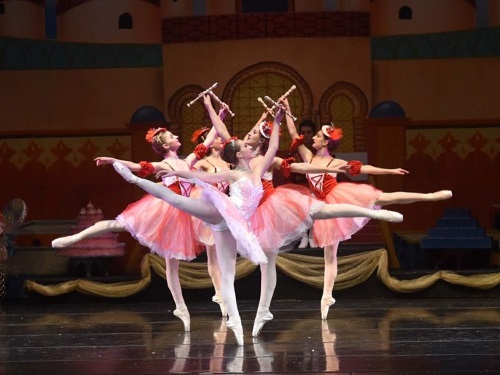 "The Nutcracker" at the Pioneer Center for the Performing Arts, Reno, Nevada. Photo courtesy A.V.A. Ballet Theatre.
The Nutcracker at The Nugget
Friday through Tuesday, December 20 - 24, 2019. Reno Dance Company's annual Nutcracker will perform in the Celebrity Showroom. Tickets range from $19.95 to $36.95. Showtime on December 20 is 7 p.m. On December 21 - 23, 3 p.m. and 7 p.m. December 24, 3 p.m. Tickets are available online. The Nugget is at 1100 Nugget Avenue in Sparks.
The Peanutcracker: The Story in a Nutshell
Saturday, December 7, 2019, 2 p.m. and 4 p.m. Peanutcracker is a shortened, kid-friendly version of the classic holiday ballet suitable for families with young children who wouldn't do well at a full-length performance of The Nutcracker. Sierra Nevada Ballet of Reno performs this piece along with more than 50 local children. At the Carson City Community Center, 850 E. William St. Tickets are $6 to $11 and available online. There is a separate ticket link for each show time.
Sources: Pioneer Center, Sierra Nevada Ballet
Sponsored Links