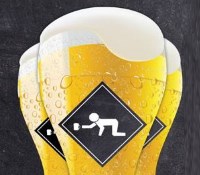 Reno has become the national epicenter for beer crawls, or at least a top western U.S. location for this popular adult drinking activity. What started as a small monthly beer crawl has grown to include some of the world's largest events of this type, like the huge Reno Santa Crawl in December.
Downtown Reno is the site of at least one beer crawl a month, with some months featuring more than one beer crawl due to various holidays and special events.
Beer is big in Reno and Sparks. Learn more about the growing local beer scene by visiting some of the establishments you'll find at "Breweries, Brew Pubs and Distilleries in Reno and Sparks."
Monthly Reno Beer Crawl
There is an ongoing Reno Beer Crawl on the fourth Saturday of ever month. This event is in downtown Reno where all of the participating bars, pubs, and restaurants are within walking (or crawling) distance. It costs $5 to participate, which gets you a wrist band (proving you are at least 21), map to the participating establishments, a raffle ticket, and a glass to use for six ounce samples, which are $1 each. The crawl runs from 2 p.m. to 6 p.m. The official start bar is The Library Tap House and Hookah Lounge (The Waterfall), 500 N. Sierra Street.
You can buy tickets online or at The Library start bar. The contact phone number is (775) 322-7373.
Crawl Reno Themed Beer Crawls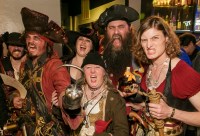 Each crawl in the series has a special theme. They are put on by Crawl Reno and follow the same basic format as the monthly Reno beer crawl. However, these crawls don't happen regularly every month, cost and start location differ, and crawlers are expected to don costumes related to the crawl theme. Some crawls have related events open to everyone, not just adults and not necessarily on the same day. Be sure to visit the website of each crawl of interest to get all the details.
When something special comes along, Reno's crawl organizers frequently conjure up a crawl to suit the occasion. Crawls can also change dates from year to year, so be sure to check the websites for the latest information.
The Crawl Reno info phone number is (775) 624-8320.
(Images courtesy Reno Beer Crawl and Crawlreno.com)
Sponsored Links
Sponsored Link