Taylor Creek Visitor Center is one of the best places for new visitors to acquaint themselves with the big variety of natural ecosystems and features found in the Lake Tahoe Basin. If you have been to Lake Tahoe many times, you will still find things of interest at Taylor Creek Visitor Center and probably learn something new each time you visit.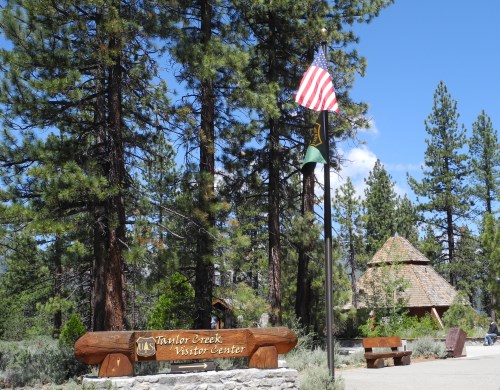 Taylor Creek Visitor Center, Lake Tahoe. Photo © Stan White
Visitor Center at Taylor Creek
Taylor Creek Visitor Center is operated by the U.S. Forest Service Lake Tahoe Basin Management Unit in partnership with the Great Basin Institute. It offers brochures, maps, wilderness permits, and seasonal interpretive programs. Four self-guided trails start at or near the Visitor Center.
Taylor Creek Visitor Center is open daily Wednesdays through Sundays, 9 a.m. 4 p.m. Hours are variable. Call (530) 543-2674 to get details. The Visitor Center is ADA accessible. Parking is free and there are picnic tables, restrooms, and drinking water. Audiotape tours of the area are available at no charge.
Self-Guided Trails at Taylor Creek Visitor Center
Rainbow Trail - This easy trail begins at the Visitor Center and is a 1/2-mile paved walk. It is wheelchair accessible. There is an audio tape presentation available for people with impaired vision. The trail takes you through forested areas with views of Taylor Marsh and Taylor Creek. Take the Rainbow Trail to reach the Stream Profile Chamber.
Lake of the Sky Trail - Lake of the Sky is a 3/8-mile walk to the south shore of Lake Tahoe. The trail passes through Jeffrey pine forest with views of Mt. Tallac and other Sierra peaks across Taylor Creek Marsh. The trail ends at Baldwin and Kiva Beaches and connects to the Tallac Historic Site Trail.
Forest Tree Trail - This short trail features the Jeffrey ine, the dominant tree in the Lake Tahoe Basin. You'll learn about the life cycle of this pine, from germination to decomposition, while walking along this shady path.
Smokey's Trail - Safe campfire construction is the theme along this walk. Kids who remember the procedures for a safe campfire will receive a reward from the Visitor Center.
Tallac Historic Site Trail - Access this trail from the end of the Lake of the Sky Trail. It is a 3/4-mile walk next to Kiva Beach. This walk through the historic area passes next to the remains of Lucky Baldwin's Tallac House, gambling casino, and Tallac Hotel. The trail then enters the grounds of the Baldwin-McGonagle, Pope and Valhalla summer homes, providing a fascinating look at how the rich used to live at Lake Tahoe.
You have a good chance of encountering a variety of wildflowers along these walks. Depending on the season, you might find snow plant, monkeyflower, ranger's buttons, pussy paws, Tahoe yellow cress, and Porterella.
Stream Profile Chamber on Taylor Creek
The Stream Profile Chamber lets visitors see life under the water in Taylor Creek. It is an underground viewing chamber where fish and other aquatic life can be seen through big windows like at an aquarium. The Chamber includes a diorama depicting life above and below the water, along with displays of seasonal changes around Taylor Creek. The Chamber is reached via a short walk on the Rainbow Trail. I has been closed for repairs and is expected to open late summer 2023.
Location of Taylor Creek Visitor Center
Coming from South Lake Tahoe, Taylor Creek Visitor Center is located about three miles north on the lake side of Highway 89 (known locally as Emerald Bay Road). The entrance is a right turn just past the entrance to the Tallac Historic Site.
Dogs at Taylor Creek Visitor Center
Dogs on leash are permitted, except in the Stream Profile Chamber and in or near the Taylor Creek Marsh.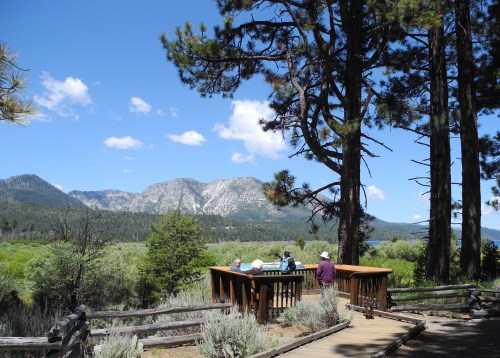 View of Taylor Creek Marsh, Lake Tahoe, and surrounding Sierra Nevada mountains from Lake of the Sky Trail at Taylor Creek Visitor Center. Photo © Stan White
Sponsored Links
Sponsored Link