Reno Earth Day
Reno Earth Day will be at Idlewild Park on Saturday, April 22, 2023, from 11 a.m. to 5 p.m. The event continues with numerous exhibitors, performers, volunteers and sponsors. Actual Earth Day happens to be on the same day as the event.
Learn about sustainability, recycling, energy and much more from local non-profit and educational groups. There will be live local musicians and locally sourced beer. Be sure to bring your flask and reusable shopping tote. Get in the Earth Day spirit by riding to the event on the Truckee River Bike Path.
Earth Day at Galena - Saturday, April 22, 2023, 9 a.m. to 5 p.m. The Visitor Center at Galena Creek Recreation Area will be celebrating Earth Day. The Great Basin Institute (GBI) staff will be hosting hands-on environmental educational activities and presentations for the public. The community will learn about birding by ear, the smallest of creatures, defensible space planting while planting their own seeds, DIY nature crafts and more. There will be food, raffle prizes, presentations and tree saplings available for purchase. This is an interactive event and visitors of all ages are welcome to participate. Galena Creek Visitor Center, 18250 Mt. Rose Hwy. in Reno.
Free RTC Transit rides on Earth Day - RTC will provide free transportation to and from the Reno Earth Day event at Idlewild Park from 10:30 a.m. to 5:30 p.m. RTC Transit Route 16 Special will drop off and pick up Earth Day eventgoers at RTC 4TH STREET STATON in Downtown Reno, or the courthouse parking lot, located at the intersection of Virginia Street and Court Street, and take them to and from Idlewild Park every 15 minutes. At the courthouse parking lot, the bus will pick up and drop off passengers near the parking lot entrance on Court Street. There will be free pedicab rides as well.
More Reno Area Earth Day Events
Tahoe Truckee Earth Day Festival
Saturday, April 15, 2023, 11 a.m. to 5 p.m. Visit the Village at Palisades Tahoe for one of the largest Earth Day celebrations in the region. The Tahoe Truckee Earth Day Festival is a free public event celebrating and promoting the region's unique beauty. This community event gives kids and adults the chance to learn about recycling, composting, alternative energy, and sustainability though hands-on activities and presentations everyone can enjoy.
South Tahoe Earth Day Festival
Saturday, April 22, 2023, 10 a.m. to 3 p.m. This local Earth Day celebration is one of the largest environmental education events in the area. The event provides local residents and visitors an opportunity to learn about the various environmental issues that affect South Lake Tahoe. This is a free, family friendly event. At Lake Tahoe Community College, 1 College Drive in South Lake Tahoe, CA.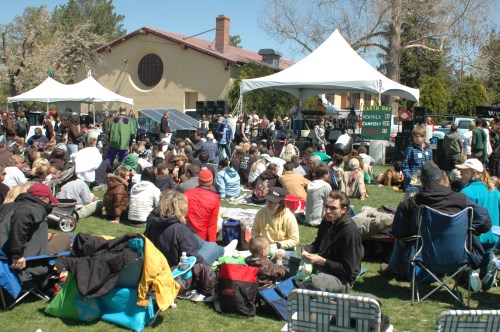 Earth Day at Idlewild Park in Reno, Nevada. Photo © Stan White
Sponsored Links
Sponsored Link