Sand Harbor offers a number of family-friendly recreational activities, including long sandy beaches, a boat launch (sometimes closed due to low water), picnicking, group use areas, hiking, watercraft rentals and tours, and restrooms. The Sand Harbor visitor center has a gift shop, area information, and displays about Lake Tahoe. During the summer months, there is a food concession, snack bar, and shaded seating area. There is no camping at Sand Harbor or any other beaches within Lake Tahoe Nevada State Park. Pets are only allowed off-season from mid-October to mid-April. Glass containers are prohibited on the beaches. Due to low water, the Sand Harbor boat ramp is closed for the 2022 season.
The entrance fee at Sand Harbor is $10 per vehicle ($15 for non-NV vehicles). For cyclists, it's $2 per bike. Fees are subject to change, so check the Nevada State Parks fees for the latest information. Fee booths only accept cash during the summer months. The information phone number at Sand Harbor is (775) 831-0494.
Things To Do at Sand Harbor
Picnicking
Group Picnicking
Visitor Center
Hiking Trails
Nature Study
Boating (requires inspection fee)
Swimming
Sand Harbor Rentals (kayaks, sailing kayaks and stand-up paddleboards)
Kokanee Bar and Grill Food Concession
Lake Tahoe Shakespeare Festival
Sand Harbor Park Hours
Sand Harbor is open from 7 a.m. to 7 p.m., 365 days a year. However, operations are modified to accommodate high visitation from Memorial Day through Labor Day. Be sure to read the "Sand Harbor Frequently Asked Questions" for more details.
How to Get to Sand Harbor at Lake Tahoe
From Reno, take either U.S. 395 / I580 or S. Virginia Street to the Mt. Rose Highway (Nevada 431) and follow the signs to Lake Tahoe and Incline Village. When you reach Nevada 28, turn left toward Incline Village. Sand Harbor is located three miles south of Incline Village on the right (Lake Tahoe side).
Sand Harbor's popularity creates a parking hassle on busy summer days. Parking lots are frequently full from as early at 9 a.m. to 4 p.m. on summer weekends and during weekdays in July and August. It is illegal to park along Highway 28 for 3/4 mile on either side of the Sand Harbor entrance. Walk-in visitors are not allowed - you may not drop people off and let them enter the park on foot whether the parking lot is full or not.
East Shore Express to Sand Harbor
The East Shore Express service to Sand Harbor will begin operations on June 30 and run through Labor Day, September 4, 2023. Service operates daily from 10 a.m. to 7 p.m. Parking will be at 771 Southwood Blvd., Incline Village. The gates will open at 7 a.m. If the lot is full, additional parking will begin at 915 Northwood Blvd.
Tahoe East Shore Trail
This trail (opened on June 28, 2019) provides a link between the Tunnel Creek Café in Incline Village and Sand Harbor. The three-mile path is open to non-motorized bicycle and foot traffic. Approximately 90 new parking spots with direct access to the trail are available at three new parking lots located alongside SR 28 in Incline Village near Ponderosa Ranch Road. Self-paid parking is required. Regular fees apply to enter the park via the trail.
Lake Tahoe Shakespeare Festival
During July and August, the Lake Tahoe Shakespeare Festival sets up at Sand Harbor, creating the world's most beautiful venue for the Bard's plays.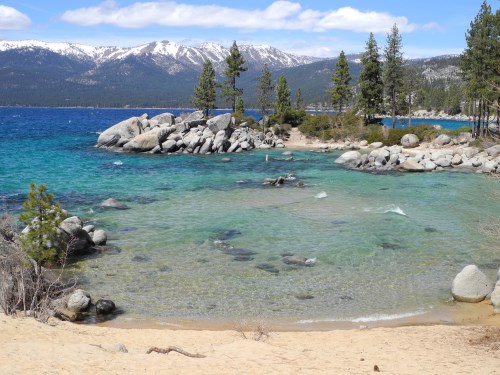 Beautiful beaches and Lake Tahoe scenery at Sand Harbor. Photo © Stan White
Sponsored Links
Sponsored Link