Football will play in 2020. The Mountain West Conference has announced that football will be played starting in October. There will be 8 games and play will be between conference teams only. Other sports will resume in spring.
The Nevada Wolf Pack football team plays for the University of Nevada, Reno. The school is in the Mountain West Conference, giving the team a mix of opponents different than when the team was part of other conferences. However, old rivals like UNLV and Hawai'i are still on the schedule. The Pack's head coach for the 2020 season is Jay Norvell. He is Nevada's 26th head coach and 2020 will be his 4th year guiding the team.
2020 Modified Nevada Wolf Pack Football Games Schedule
Overall: 7-2 | Conf.: 6-2 | Home: 4-0 | Away: 1-2 | Neutral: 2-0
(Times are local Reno Pacific Time. * denotes conference games.)
Wolf Pack Football Home Games at Mackay Stadium
Nevada Wolf Pack football home games are played in Mackay Stadium on the University of Nevada, Reno campus. The stadium celebrated its 50th anniversary in 2016 with renovations and upgrades. Check these links to get the information you need to ensure a fun time at Wolf Pack games.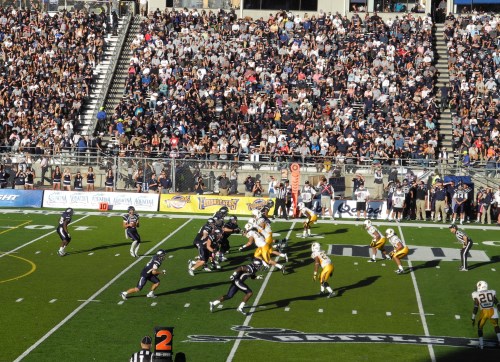 Nevada Wolf Pack football home games are played at Mackay Stadium in Reno. Photo © Stan White
Wolf Pack Football on Radio, TV, and Online
All Wolf Pack football games are broadcast in the local area on ESPN Radio 94.5 FM. For TV and online broadcasting of games, refer to the Nevada Wolf Pack schedule on the team's website.
Wolf Pack Football on Social Media
Follow Wolf Pack athletics on these social media sites...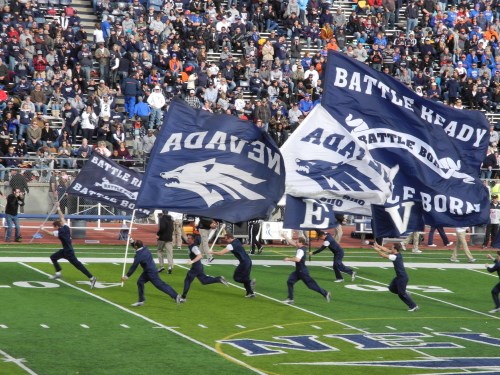 Nevada Wolf Pack football cheer squad in action at Mackay Stadium in Reno. Photo © Stan White
2019 Nevada Wolf Pack Football Games Schedule
Overall: 7 - 5 | Conf.: 4 - 4 | Home: 4 - 2 | Away: 3 - 3
2018 Nevada Wolf Pack Football Results
Overall: 8 - 5 | Conf.: 5 - 3 | Home: 4 - 2 | Away: 4 - 3
2017 Nevada Wolf Pack Football Results
2016 Nevada Wolf Pack Football Results
2015 Nevada Wolf Pack Football Results
Sponsored Links