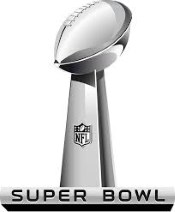 The Reno area has some of the biggest and best Super Bowl parties around, which isn't surprising considering that we host some of the best big events in the West. If football is your thing (and maybe betting on football), you can have a good time with like-minded fans at numerous places in the greater Reno region.
The 2023 big game will be played at State Farm Stadium in Glendale, AZ. Reno area fans can watch the game on local FOX station KRXI channel 11, or be at one of the parties to see the action on huge screens. Kickoff is scheduled for 3:30 p.m. Reno time. The half-time show will be headlined by Rihanna.
Divisional round game scores:
AFC - Kansas City Chiefs (27) and Cincinnati Bengals (27)
NFC - Philadelphia Eagles (38) and San Francisco 49ers (19)
Conference Championship game scores:
AFC - Kansas City Chiefs (23) vs. Cincinnati Bengals (20)
NFC - Philadelphia Eagles (31) vs. San Francisco 49ers (7)
Teams playing in Super Bowl LVII (57)
Kansas City Chiefs (38) vs. Philadelphia Eagles (35)
Reno Area Super Bowl LVII Parties on Sunday, February 12, 2023
Big Game Blitz LVII Party at the Peppermill
Watch the Big Game at the Peppermill's Tuscany Ballroom. Your ticket includes an all-you-can-eat stadium food buffet, commemorative gift, beer at every table, door prizes at every quarter and more. Doors open at 2:30 p.m. You can get an assigned seat for $150 or a table for 10 for $1200. The Peppermill is at 2707 S. Virginia Street in Reno.
Big Game Parties at THE ROW
Two Teams, One Epic Matchup. It will be a super weekend at all three casinos that are part of THE ROW in downtown Reno - Eldorado, Silver Legacy, Circus Circus. Each venue will have their own parties and promotions - visit the website to check out what's going on at each place. There are some with a cover charge and others with free entry.
Big Bowl Bash LVII Party at the Atlantis
The Atlantis Big Game party is in both the Ballroom and the Sports Book. Tickets to the Ballroom party include an all-you-can-eat tailgate buffet and draft beer, prize giveaways and more. The Sports Books features casino-wide party action, special bets and stadium food and beer specials during the game. The Atlantis Casino Resort Spa is at 3800 S. Virginia Street in Reno.
Big Game 57 Viewing at the Grand Sierra Resort
Catch the Big Game at both Chickie's and Pete's and Crystal Lounge. Doors at both venues open at 2 p.m. Both venues offer lots of big screens plus plenty of food and drink during the game. Visit the website for more information and online tickets. The Grand Sierra is at 2500 East Second Street in Reno.
Nugget Big Game Viewing Parties
Tickets for the Big Game Viewing Parties are $85 in the Grand Ballroom and in Game On. Doors open at 2:30 p.m. Both venues incude stadium food and bottomless drinks. Visit the website for details about what's included and to buy tickets online. The Nugget is at 1100 Nugget Avenue in Sparks.
Big Game Celebration at the Bonanza Casino
Join us at the Bonanza for the Big Game with over $1,000 in free play drawings, prize giveaways, game viewing on giant HDTVs and more. Additional goodies and promotions for Fort Reno Cavalry Officers. The Bonanza is at 4720 N. Virginia Street in Reno.
Big Game Party at Boomtown
The Boomtown Big Game Party has a $30 general admission price or you can opt for the $60 VIP seating option with more perks. Doors open at 2 p.m. Both feature stadium style food, drinks, multiple big screens and giveaways throughout the game. Doors open at 1:30 p.m. Tickets are available online. Boomtown is at 2100 Garson Rd. in west Reno, next to I80 at exit 4.
Party at Breweries and Brewpubs in Reno and Sparks
Beer has to be the favorite drink of football fans. There is no shortage of beers to be had at the many Reno and Sparks brewpubs and breweries. To find one of these Big Game party spots near you, go to "Breweries, Brew Pubs and Distilleries in Reno and Sparks."
Sponsored Links
Sponsored Link