Halloween parties and events for adults in Reno, Sparks, and up at Lake Tahoe provide grown-up revelers a variety of venues for tricks, treats, drinking, and general adult rowdiness at a number of over 18 and 21 venues.
Freaks Come Out at Roller Kingdom
October 28, 2021, 9:30 p.m. to 1:30 a.m. Costumes recommended for this 18+ adult skate party. Come skate to tunes played by Reno's hottest DJs. $20 per person includes skates. Roller Kingdom is at 515 E. 7th St. in Reno. (775) 329-3472.
Reno Zombie Crawl
Saturday, October 23, 2021, starts at 8 p.m. The Reno Zombie Crawl is one of the top 10 costumed Halloween parties in the nation, attracting around 20,000 walking dead to prowl the streets of downtown Reno. Enjoy thousands of dollars worth of costume contest prizes and drink specials at around 31 bars, clubs, restaurants and taverns, hotel discounts and lots of special features. It's only $10 to join in. You can buy cups online, at various participating shops or at the start bar on the night the zombies stalk the streets.
Before the adults-only Zombie Crawl starts at 8 p.m., everyone (all ages) is invited to dance Thriller Under the Arch in downtown Reno. This year we won't be putting on our traditional Thriller Under the Arch, but you can you still take part in a Thriller dance and be in a movie. Working Stiffs Productions will be filming an independant comedy, and you can be in the film. After everyone completes shooting for the movie, participants will all dance to the real Thriller a couple times under the Arch, and all of it will be filmed for a very special video of the dance in cinematographic style. The whole things lasts from 2 p.m. to 6 p.m.
Wicked Wine Walk
Saturday, October 16, 2021. This is the regular Riverwalk Merchants monthly wine walk with a Halloween twist. It's $30 for a glass that lets you sample wine at over two dozen establishments as you wander the Riverwalk district. Wear your costume. The event is from 2 p.m. to 5 p.m. Strollers and pets are not advised because of the large crowds. (775) 825-WALK (9255).
Lexorcisim at Lex Nightclub
Saturday, October 30, 2021, 10 p.m. Lex Nightclub is where we turn your scariest nightmares into an unforgettable night of fun and fantasy. Featuring Celebrity DJ Konstantina Gianni. Come dressed to enter the costume contest with $3,000 in cash prizes. $20 cover. Lex Nightclub is inside the Grand Sierra Resort, 2500 E. 2nd Street in Reno.
Halloween Bar Crawl
Saturday, October 30, 2021, 4 p.m. to midnight. The crawl starts at Antonio's Pizzeria, 95 N. Sierra St. in Reno, and continues on to other venues throughout downtown Reno. The $25 tickets include two free drinks, deals at five venues and access to an exclusive afterparty at The Silver Peak in downtown Reno.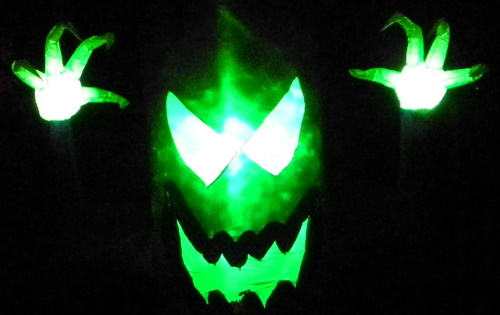 Halloween for Adults at Lake Tahoe and in Las Vegas
42nd Annual Freaker's Ball at MontBleu Lake Tahoe
Saturday, October 30, 2021. Tickets to this event get 21+ adults into two different venues at the Montbleu Lake Tahoe. There will be $10,000 in cash and prizes, costume contest, go-go dancers, music from DJs, drink specials all night long. Tickets are $50 in advance, $55 the week of the event, $60 day of event. You can get tickets online. MontBleu Resort Casino & Spa is on Lake Tahoe's south shore at 55 Highway 50.
Creeper's Ball at the Crystal Bay Club, North Lake Tahoe
Saturday, October 30, 2021. This Halloween bash features "Tainted Love" in the Crown Room. Online tickets are $25 plus fees. Doors open at 8 p.m., show starts at 9 p.m. The Crystal Bay Club is on the north shore, just west of Incline Village at 14 State Highway 28, Crystal Bay, NV. (775) 833-6333.
Fetish & Fantasy Halloween Ball in Las Vegas
Saturday, October 30, 2021. If you are going to be in Las Vegas for Halloween, the Fetish & Fantasy Halloween Ball might be the adult party you're looking for. Billed as the the world's wildest Halloween party, it will be at AREA 15, starting at 9 p.m. Be sure to read the Dress Code and General FAQs before deciding to attend. This party is not for the faint of heart or prudish.
More Halloween Activities
Sponsored Links
Sponsored Link