Free presentations from the Historic Reno Preservation Society are open to the public. These programs are for you if you are a local history buff or just want to know more about how and why Reno and northern Nevada got to where we are today.
ALOS - The Hunt for Hitler's A-Bomb - Tuesday, October 6, 2020, 5:30 p.m. In 1943, as part of the Manhattan Project, a clandestine group of scientists and military personnel, ALOS, are tasked with finding and capturing German nuclear scientists and their labs before Hitler can change the outcome of the war. Unforgettable and unlikely characters, poignant moments, suspense and even comedy characterize this piece of history. And a special twist: the Reno connection? This is a virtual presentation via Zoom. Presented by Jerry Wagner, retired from managing environmental programs.
A Taste for History - Tuesday, November 3, 2020. Come savor a visual history of local food, drink and the industries that surround them! "Edible Traditions" columnist Sharon Honig-Bear has fashioned a presentation based on her past four years of columns in edibleRenoTahoe magazine, with new images never published in the magazine. This is a virtual presentation via Zoom. Presented by Sharon Honig-Bear, former restaurant columnist for the Reno Gazette-Journal and now a columnist for edibleRenoTahoe magazine.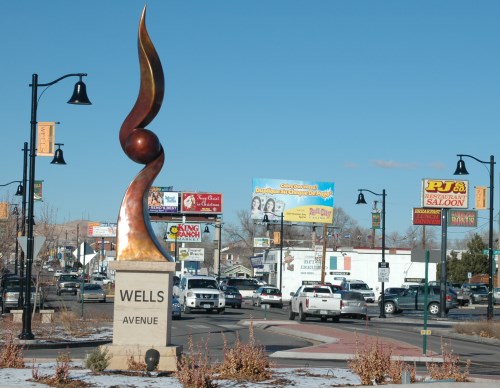 Reno's historic Wells Avenue neighborhood. Photo © Stan White
Source: Historic Reno Preservation Society.
Sponsored Links