Much of Reno's St. Patrick's Day fun happens in our numerous Irish pubs, but there is plenty more. Check out the many St. Patrick's Day events and activities going on throughout the area, many of which are family-friendly. St. Patrick's Day is on Friday, March 17, 2023.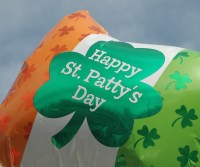 Reno Area Irish Pubs - Reno, Sparks, and the Lake Tahoe area all have Irish pubs where you can be sure to enjoy St. Patrick's Day in proper style. Depending on where you go, you'll find Irish food and drinks, live music, dancers, and even bagpipers. My Irish pubs article lists them so you can find one in your neighborhood.
SADOE 52nd Annual St. Patrick's Day Dinner & Show - Saturday, March 4, 2023, 4 p.m. to 8:30 p.m. Presented by the Sons and Daughters of Erin (SADOE), the event includes performances by the Sierra Silverstrings, The Sierra Highlanders Pipe Band, Plastic Paddy and Irish Dancers. The evening will feature a raffle and whiskey tasting (for an additional fee). The dinner will honor our Irish Person of the Year and others who support the organization. At Circus Circus Hotel Casino in Reno. Visit the website for ticket information or call 775-378-0931.
Reno Leprechaun Crawl - Saturday, March 11, 2023, 8 p.m. to 2 a.m. The event draws people from all over the country and beyond, making it one of the largest bar crawls in the world. 20+ different participating downtown bars, nightclubs and restaurants, all in walking distance and no cover charges. Lots of beer and drink specials and giveaways. Visit the website for information about pre-purchasing cups, a list of participating venues, and specials on crawl night lodging.
Annual Rocky Mountain Oyster Fry - Saturday, March 11, 2023, 10 a.m. to 4 p.m. Go up to Virginia City for this popular event. Cooks from around the west fry, smoke or grill these delectable concoctions in a way that will make you forget what you're really eating. Dress to impress in your most festive or outlandish St. Patty's Day garb. The Ball Breaker Saloon Crawl is part of the festivities, along with a St. Patrick's Day Parade starting at 12 noon.
Leprechaun Race 5K Run / Walk - Sunday, March 12, 2023, 8:30 a.m. The race runs through the Midtown and Wells Avenue districts. It is family friendly. This is a great first 5K for new runners. Costumes are encouraged. You race against a leprechaun and if your time is faster than hers, then you will earn a special prize. For every runner and walker who the leprechaun beats, the leprechaun's pot of gold will grow in size as a benefit for the Terry Lee Wells Nevada Discovery Museum. Online registration is available.
Tour de Brews in Reno's Brewery District - Friday, March 17, 2023, 5 p.m. to 8:30 p.m. Get on down to Reno's Brewery District (downtown Reno along 4th St.) for our St. Paddy's Day edition of Tour de Brews featuring St. Paddy's Day drinks and live Irish music. Part of the proceeds of this tour goes to supporting the Sons & Daughters of Erin. There are 17+ diverse, locally-owned businesses in the Brewery District taking part in this tour. We've got breweries, distilleries, wineries, coffee shops, cocktail bars, classic bars, and restaurants. Buy tickets online. This is a 21+ event.
Shamrock Shave for St. Baldrick's Foundation - Saturday, March 18, 2023. Come participate in the annual Shamrock Shave for the St. Baldrick's Foundation. The event will be held at the Ole Bridge Pub, 50 North Sierra Street, from 12 noon to 5 p.m. Reno area residents are welcome to join in their commitment to help find a cure for childhood cancer. Contributions from the event will go toward the St. Baldrick's Foundation.
St. Patrick's Day Dining at the Bonanza Casino - Friday, March 17, 2023. The Branding Iron Cafe will be serving a corned beef and cabbage special or Reuben sandwich from 11 am. to 10 p.m. Both are meals with lots of side dishes. The Bonanza is at 4720 North Virginia Street in Reno. (775) 323.2724.
St. Patrick's Day Dining at the Atlantis - Friday, March 17, 2023. Celebrate St. Patrick's Day at Atlantis with food and drink specials. Whether you're looking for a traditional Irish-style meal or some festive and fun Irish drinks, you'll find both. Menu and drink specials will be available at The Purple Parrot, Toucan Charlie's Buffet & Grille, Bistro Napa and Manhattan Deli. The Atlantis is at 3800 S. Virginia Street in Reno. (775) 824-4411.
An Irish Night Out with Pineapple Pedicabs - Tuesday through Saturday, March 1 - 31, 2023 (except March 17). Pedicab tour through downtown Reno, completely curated Irish evening out. Drinks and gratuity included at all stops. Three stops - Shanty Dolans, Ceol's Irish Pub, Ole Bridge Pub. Start times are every hour between 4 p.m. and 8 p.m. Visit the website to book a tour online.
St. Patrick's Day at THE ROW - March 16 - 18, 2023. Enjoy St. Patrick's Day food and drink specials at The Brew Brothers and Millie's in the Eldorado. On March 17, the Shamrock Shindig features partying at Novi, Rum Bullions, The Brew Brothers and El Jefe's, located in the Eldorado, Silver Legacy and Circus Circus. The festivities begin at 9 p.m. THE ROW casinos are located in downtown Reno.
St. Patrick's Day Free Safe RIDE Program - Make it a safe St. Patrick's Day and ride the bus if your celebrating involves enjoying green beer, ale, and Irish whiskey. All scheduled RTC transit services will be offering free rides on Friday, March 17, 2023, from 4 p.m. to 2 a.m. RTC is sponsoring this freebie along with several area businesses and organizations.
Family-Friendly St. Patrick's Day Customs and Traditions - Here are some suggestions for St. Patrick's Day customs, traditions and activities the whole family might enjoy, submitted for your consideration by guest author Sarah Lockwood.
Sponsored Links
Sponsored Link