You don't really need an excuse to visit any of Nevada's state parks - each is unique and has special things to offer.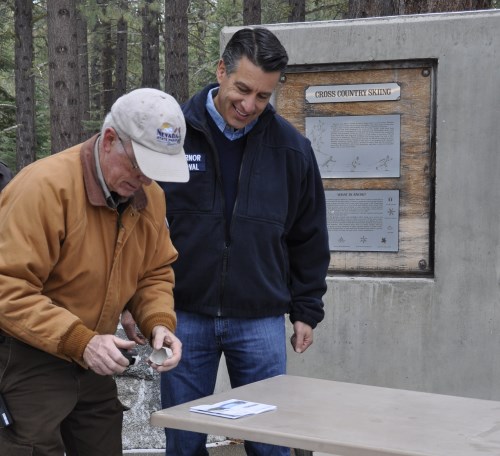 Nevada Governor Brian Sandoval getting his Nevada State Parks Passport stamped at Sand Harbor in Lake Tahoe Nevada State Park. Photo courtesy Nevada Department of Conservation and Natural Resources.
Learn More with the Nevada State Parks Passport
However, with your Nevada State Parks Passport in hand, you will quite likely be prompted to explore and enjoy the wide range of natural features, historical value, and recreational opportunities available at the Silver State's parks. These range from the fanciful spires at Cathedral Gorge State Park to fishing at Wild Horse State Recreation Area. You might enjoy the awesome red sandstone and petroglyphs at Valley of Fire (Nevada's oldest state park), the alpine beauty at Lake Tahoe Nevada State Park, or the history at Mormon Station and Fort Churchill. With such a variety, there is something for everyone.
The Nevada State Parks Passport booklet can be picked up at any state park. The passport is a travel aid and travelogue for park visitors. It includes photos, a description of each park, lists of amenities, travel journal pages, and spaces for validation stamps which have been designed to reflect each state park. Once visitors have their passports stamped at 15 different parks, they will be eligible to receive one free annual pass to all Nevada State Parks.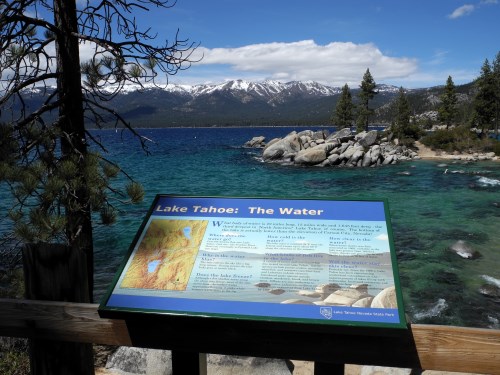 View from Sand Harbor in Lake Tahoe Nevada State Park. Photo © Stan White
More Public Land in Nevada
Nevada's state parks are only part of the many public lands open to the public in Nevada. Learn about other places - national parks, national forests, wildlife refuges, Bureau of Land Management (BLM) lands, and more - from "Nevada's Public Lands."
Source: Nevada Department of Conservation and Natural Resources, Division of State Parks.
Sponsored Links
Sponsored Link