Things To Do at Idlewild Park
Idlewild Park is one of Reno's most popular public parks. It is a beautiful open space next to the Truckee River, with numerous attractions for many different interests. Idlewild Park is the location of Reno Earth Day and provides other recreational opportunities.
Walking and bike riding paths (a section of the Tahoe-Pyramid Bikeway)
James D. Hoff Peace Officers Memorial
Public Art (Rose Waterfall and Rainbow Trout Tree)
Rentable park shelters
California Building
Playgrounds and ballfields
Small lakes for fishing / duck and waterfowl feeding
Skate park
Grassy areas for games and sports
Picnic areas
Idlewild Park is administered by the City of Reno Parks, Recreation & Community Services Department. For more information, call (775) 334-2262.
Idlewild Park Location and Parking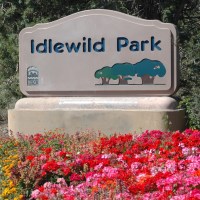 Idlewild Park is located along Idlewild Drive, just west of downtown Reno. The park is defined by a bend in the Truckee River on the north and east, and Idlewild Drive on the south. The main entrance is Cowan Street from Idlewild Drive. Latimore Drive marks the west edge and is also an entrance into that end of the park. Spoon Drive passes through the southwest corner and provides access to the swimming pool, playground, and ball fields.
There is lots of free parking inside Idlewild Park and more along Idlewild Drive. Parking tends to fill up at busy times like Earth Day, so bear that in mind if you plan to attend any big events at the park.
Dogs in Idlewild Park - Idlewild Park is not a dog park. Dogs must be leashed at all times and owners are required to clean up the dog poop. If you want to let Rover run free, take him to one of the official dog parks in Reno or Sparks.
A Brief History of Idlewild Park
According to National Park Service information, Idlewild Park and the California Building were gifts to Reno from the State of California. It was the dawn of the age of automobile travel and Reno was suddenly an important crossroads for two new transcontinental highways. Both the Lincoln Highway and the Victory Highway were being completed and a big celebration was in order, which turned out to be the 1927 Transcontinental Highway Exposition. The original Reno Arch built for the Exposition was moved to Idlewild Park before it ended up at its present location spanning Lake Street next to the National Automobile Museum.


Idlewild Park in Reno is beautiful in every season. Photos © Stan White
Sponsored Links
Sponsored Link