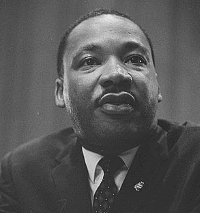 Martin Luther King, Jr. Day in 2021 will be observed on Monday, January 18. The day is an official national holiday observed across the country, with most federal, state and local government offices closed for the day. Some private businesses close as well at their own discretion.
The holiday occurs on the third Monday in January as an observation of the civil rights leader's birthday, which was on January 15. The law setting the holiday was signed by President Ronald Reagan in 1983.
Martin Luther King, Jr. Day of Service
Concurrent with this holiday is the Martin Luther King, Jr. Day of Service. On this day, citizens are encouraged to engage in volunteer volunteer service in honor of Dr. King. The federal legislation was signed into law by President Bill Clinton in 1994. In Reno, there are numerous opportunities for volunteer service. You can see if something is of interest in the Reno listings of volunteer organization All for Good. You can also conduct your own search to see if there is something in your neighborhood.
Martin Luther King, Jr. Day Interfaith Memorial Service
Sunday, January 17, 2021, 5 p.m. to 6:30 p.m. "Keep Moving Forward, We Aren't Done Yet" 35th Interfaith Memorial Service will be presented online on YouTube. The Onie Cooper Humanitarian Award will be presented to Rev. William C. and Mrs. Violene C. Webb.
33nd Annual Dr. Martin Luther King, Jr. Birthday Weekend
Sunday and Monday, January 17 - 18, 2021. Hosted by the Northern Nevada Black Cultural Awareness Society (NNBCAS). Theme for this online event is "Starting Good Trouble: A New Normal." Join in for a unique online digital experience. This year enjoy impactful workshops for all the members of the family, a chef prepared cooking tutorial to enjoy during the finale and a televised broadcast on the CW. The broadcast is free, but visit the website for workshop and tutorial tickets.
23rd Annual Onie Cooper Memorial Caravan
Monday, January 18, 2021, 11 a.m. The caravan will be on the Rev. Dr. Martin Luther King Jr. Highway (I-580 / US 395). Staging begins at 10;30 a.m. at the Unitarian Universalist Fellowship, 780 Del Monte Lane in Reno. (775) 303-7050.
Free Admission Days on Public Lands
Admission fees will be waived at many public lands facilities administered by the federal government on Martin Luther King, Jr. Day. Other fees, such as for overnight camping and cabin rentals, will still apply. Facilities involved include those administered by the National Park Service, Bureau of Land Management (BLM), U.S. Forest Service (USFS) and U.S. Fish and Wildlife Service (USFWS).
(Image courtesy the National Archives.)
Sponsored Links
Sponsored Link