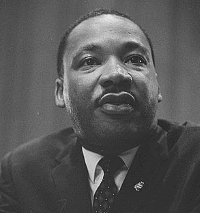 Martin Luther King, Jr. Day in 2020 will be observed on Monday, January 20. The day is an official national holiday observed across the country, with most federal, state and local government offices closed for the day. Some private businesses close as well at their own discretion.
The holiday occurs on the third Monday in January as an observation of the civil rights leader's birthday, which was on January 15. The law setting the holiday was signed by President Ronald Reagan in 1983.
Martin Luther King, Jr. Day of Service
Concurrent with this holiday is the Martin Luther King, Jr. Day of Service. On this day, citizens are encouraged to engage in volunteer volunteer service in honor of Dr. King. The federal legislation was signed into law by President Bill Clinton in 1994. In Reno, there are numerous opportunities for volunteer service. You can see if something is of interest in the Reno listings of volunteer organization All for Good. You can also conduct your own search to see if there is something in your neighborhood.
MLK National Day of Service All-Ages Volunteer Event
This family service event will be held in Reno at the Reno-Sparks Convention Center on Monday, January 20, 2020 from 1 p.m. to 3 p.m. There will be a variety of different tasks for attendees to help with and every person who attends will also receive a free T-shirt, plus a raffle with tons of great prizes to be won. Please RSVP to sign up and volunteer. Sponsored by the Food Bank of Northern Nevada.
Martin Luther King, Jr. Day Memorial Service and Memorial Caravan
Sunday, January 19, 2020, 5 p.m. "The Dream is Still Alive" 34th Interfaith Memorial Service will be held at the McKinley Arts and Culture Center, 925 Riverside Drive in Reno. The Onie Cooper Humanitarian Award will be presented to Bernice Mathews and Our Story, Inc.
Monday, January 20, 2020, 11 a.m. 22nd Memorial Caravan along the MLK Jr. Memorial Highway (U.S. 395 / I580). Starts at the Boys & Girls Club of Truckee Meadows, 1090 Bresson Ave. in Reno. In cooperation with the MLK Day of Service organized by UNR's Center for Student Engagement.
32nd Annual Dr. Martin Luther King, Jr. Dinner Celebration
This celebration dinner will be at the Peppermill Resort Spa Casino and is open to the public. It will be on on Monday, January 20, 2020, hosted by the Northern Nevada Black Cultural Awareness Society (NNBCAS). A silent auction starts at 5 p.m., dinner and program begin at 6 p.m. The keynote speaker will be Dr. Jamie R. Riley, who most recently served as the Assistant Vice President for Student Life and Dean of Students at the University of Alabama.
Individual tickets are $70. Other sponsorships are available. Tickets can be purchased online. For more information, call (775)329-8990.
Free Admission Days on Public Lands
Admission fees will be waived at many public lands facilities administered by the federal government on Martin Luther King, Jr. Day. Other fees, such as for overnight camping and cabin rentals, will still apply. Facilities involved include those administered by the National Park Service, Bureau of Land Management (BLM), U.S. Forest Service (USFS) and U.S. Fish and Wildlife Service (USFWS).
(Image courtesy the National Archives.)
Sponsored Links