When snow covers the Sierra Nevada around Lake Tahoe, the most inexpensive and arguably most fun family outings are to our many nearby snow play areas. Many are free, but even those at some of the ski resorts are cheap compared to buying lift tickets.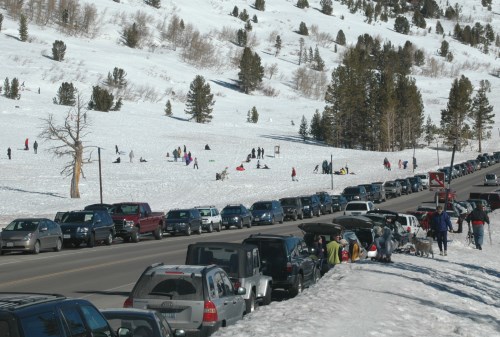 Tahoe Meadows snow play area near Lake Tahoe. Photo © Stan White
Nevada does not have a sno-park fee program, so most anywhere you go to play on public land is completely free. Once you cross the state line into California, however, you will have to buy a permit if you stop any any of the 18 or so SNO-PARK areas maintained by Caltrans.
Snow Play Areas Near Reno and Lake Tahoe
Galena Creek Visitor Center and Recreation Area - Galena Creek Visitor Center and Recreation Area is just a few miles up the Mt. Rose Highway from south Reno. The area is open year round and there are no entrance or parking fees. When snow is on the ground, the trails become snowshoeing paths and there are plenty of places near the parking area for slipping and sliding, building a snowman, and tossing snowballs. The Visitor Center is open on weekends during winter (9 a.m. to 4 p.m., Friday through Sunday) with exhibits and a variety of programs and activities.
Tahoe Meadows - Tahoe Meadows Recreation Area is along the Mt. Rose Highway (Nevada 431) just past the Mt. Rose Summit. This road is kept open through the winter and the shoulder is plowed to provide ample parking. Be extremely cautious if you have dogs and/or small children - you will be parked right next to a busy highway. Available activities at this popular spot include sledding and tubing, snowshoeing, crosscountry skiing, and snowmobiling. The southwest part of Tahoe Meadows is where the snowmobiles play, leaving the rest of the area for muscle powered sports. This system seems to keep everyone happy. This being Nevada, there are no fees to park and play at Tahoe Meadows, but neither are there any facilities. There are other snow play places along the Mt. Rose Highway, from the Mt. Rose Summit to Incline Village. Look for safe places to park with open hillsides, then hop out for some winter fun.
Incline Village Snow Play Area - The Incline Village snow play hill is on the Chateau golf course at 955 Fairway Boulevard in Incline Village. This sledding and tubing area is mild, not wild, and great for families with small children. Incline Village is reached by taking the Mt. Rose Highway to Nevada 28 on Lake Tahoe's north shore. At the intersection, turn left for Incline Village.
North Tahoe Regional Park Snow Play Area - North Tahoe Regional Park is in Tahoe Vista, CA, on Lake Tahoe's north shore. The park is operated by the North Tahoe Public Utility District. The snow play area has groomed hills and great views. North Tahoe Winter Adventures, located across from the upper level restrooms near the main parking lot, rents sleds for snowplay and snowmobiles. Call (530) 546-0605. Winter hours are 7 a.m. to 5 p.m. There is a $5 per car parking fee. It's free if you have a North Tahoe Resident's Benefit Sticker. There are also groomed trails for snowshoeing and crosscountry skiing. For information, call (530) 546-4212. Dogs must be leashed.
Spooner Summit Snow Play Area - Spooner Summit has slopes for sledding and snow tubing. Be aware that the parking area may or may not be plowed. Since this area is in Nevada, a sno-park permit is not needed and there are no fees for snow play. There are no rentals or other services, so you need to bring your own equipment and other stuff for a winter outing. Spooner Summit / Lake Tahoe Nevada State Park is located at the corner of Highway 50 and Highway 28 near Lake Tahoe (9 miles south of Incline Village). If you come up from Carson City on Highway 50, turn right on 28 just past the summit. Note that if you park inside the park, the day use fee is $10.
Winter Recreation in Hope Valley - Hope Valley is in the Humboldt-Toiyabe National Forest. This beautiful area is south of Lake Tahoe at the intersection of Highways 88 and 89. Many winter activities are available, including snowmobiling, cross-country skiing, snowshoeing, dog sledding and winter wildlife viewing. Get the "Carson Ranger District Winter Recreation Guide" for lots of information about the winter recreation opportunities in Hope Valley. Note that the Blue Lakes Road and other parking areas in Hope Valley require you to have a Sno-Park permit from November 1 through May 30.
Lodging, rentals, and other services are available from Wylder Hope Valley. After a day of snow play, lots of people enjoy a nice soak at Grover Hot Springs State Park near Markleeville. Call (530) 694-2248 to check on open days and hours for the pool. Note that use of the hot springs pool requires at least 48 hours advance reservations and up to 3 weeks in advance. Make reservations through ReserveCalifornia.com.
Tahoe City Winter Sports Park - This family snow play park features cross country skiing, snowshoeing, fat biking, a sledding hill and ice skating. The park is next to a lodge and bar / restaurant. Tickets are available for each individual activity or you can get a pass with access to everything. Season passes are available. The park is open daily through the winter season. Be sure to read "Know Before You Go" on the website before visiting. 251 N. Lake Blvd., Tahoe City, CA. (530) 583-1516. 96145
Sledding, Tubing and Snow Play Areas at Ski and Winter Resorts
Many of the ski resorts around Lake Tahoe have developed snow play areas for sledding, tubing, snowshoeing, and other snow play activities. Some even have lifts to take the work out of getting back to the top of the hill. These areas are not free, but at least you get resort amenities for your bucks. Before heading out, check the websites or call ahead to make sure they are open and to learn about the cost.
Sponsored Links
Sponsored Link