Sugarloaf Peak Trail is a moderate hiking path in the open desert north of Sparks and next to the Pyramid Highway. The trail is suitable for families and children. For information about more Reno area trails, go to "Reno Area Hiking and Walking Trails."
About Sugarloaf Peak Trail
The Sugarloaf Peak Trail is a scenic desert hike on the northern edge of the Sparks urban area. It is an out-and-back trail that takes hikers through an open area next to a subdivision, then on to the summit of Sugarloaf Peak. The trail is initially just about flat for the first couple of miles, then climbs moderately to the top of the mountain. On the way up and from the top, you get views of the Spanish Springs area and the surrounding mountain ranges.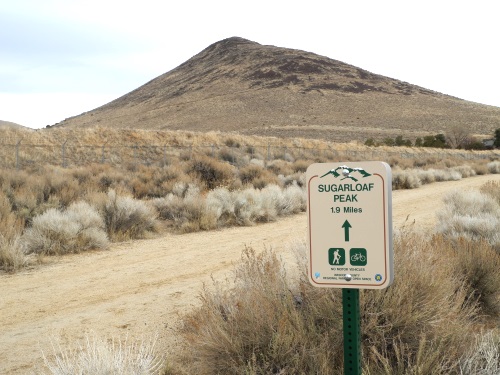 Trail on the way to climb Sugarloaf Peak near Sparks, Nevada. Photo © Stan White
There is no shade on this trail, so it is best done early in the day or on a summer evening. Mild weather days during the cooler months are also good.
Sugarloaf Peak Trail is open to hiking, mountain biking (as far as the gate at the base of the peak), equestrians, and dogs (on leash). Motorized vehicles are not allowed.
Hiking Sugarloaf Peak Trail
The first couple of miles of Sugarloaf Peak Trail skirt the south side of a Spanish Springs subdivision. This section is essentially flat and most suitable to biking and equestrian use. The trail then climbs the flank of Sugarloaf Peak and switchbacks its way to the summit. Note that there is private property on both sides of the trail to the base of the peak (which is mostly an old dirt road), so it is best to stick to the path.
Once you start up Sugarloaf Peak itself, you will become aware of the RT Donovan landscape materials operation to the west. It can be a busy place and may be a bit noisy with trucks coming and going during business hours. I consider this a minor annoyance since you can't hear it during most of the hike to the summit and it certainly doesn't ruin the terrific view from the top.
The total round trip mileage of Sugarloaf Peak Trail is a little over 5 miles. The elevation gain from trailhead to summit is 750 feet.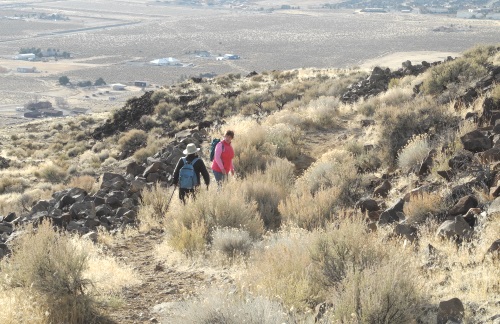 Trail to the summit of Sugarloaf Peak. Photo © Stan White
Reaching the Sugarloaf Peak Trailhead
From Sparks near I80, take Pyramid Highway (Nevada 445) north for about 10 miles. Turn right on Horizon View Avenue, then right on Paradise View Drive. The trail begins at the end of the cul-de-sac. The trail is well signed so you will have no trouble finding where it starts.
Sponsored Links
Sponsored Link