The 2023 Lake Tahoe Shakespeare Festival runs from June 30 through August 20. This 51st season of the Festival features one main play in addition to all of the other shows and activities making up this exceptional event at Sand Harbor on the shores of Lake Tahoe.
Sand Harbor has been called "The Most Scenic Venue in the World," with audience seating in a sandy bowl facing the performances and Lake Tahoe Basin as the backdrop for the stage.
Lake Tahoe Shakespeare Festival Main Season Shows
The playbill for the 2023 Lake Tahoe Shakespeare Festival includes one main show and other entertainment events...
"Our 2023 season programming reflects our ongoing efforts to rebuild after three pandemic-disrupted seasons," said LTSF Producing Artistic Director, Charles Fee. "To be prudent, we have decided to produce a single mainstage offering in 2023. We chose to produce the small cast musical Little Shop of Horrors instead of a large-scale Shakespeare title because it enables us to maximize production cost efficiencies – as the musical has already been built, fully rehearsed, and played to great success at our partner theaters in Boise and Cleveland."
Lake Tahoe Shakespeare Festival Tickets and Seating
For information about the dates each show will play and getting tickets, refer to the Festival Calendar. There are a variety of ticket package and seating options - go to Ticket & Seating Pricing for details. To see how the theater is set up and the location of seat sections, refer to Seating Options & Seat Map.
Showcase Series at the Lake Tahoe Shakespeare Festival
Every Monday night (and some Tuesdays) during the season will feature a variety of live entertainment. The Showcase Series performances will take place on the Warren Edward Trepp Stage at Sand Harbor. All performances start at 7:30 p.m.
Young Shakespeare, a D.G. Menchetti Education Program
Each year the D.G. Menchetti Education Program presents an interactive, one-hour adaptation of a Lake Tahoe Shakespeare Festival production of "As You Like It," created with the young audience member in mind. In addition to Sand Harbor, the production travels to other venues throughout the Reno/Sparks, Minden and Tahoe/Truckee region.
Performances are free (suggested donation $5 per adult; $1 per child), but reservations are required due to limited seating capacity at Sand Harbor and other venues. Reservations are available from the Young Shakespeare website.
Directions and Parking at the Lake Tahoe Shakespeare Festival
Sand Harbor is in Lake Tahoe Nevada State Park. To get there from Reno, take the Mt. Rose Highway (Nevada 431) to Incline Village, turn left on Nevada 28 and drive six miles to the park entrance. The Festival website has detailed directions on getting to Sand Harbor from various locations. Carpooling is recommended as parking is limited.
A Nevada State Parks Entrance Pass (which may be purchased in advance or at the gate) will be required to gain access to and park at the Sand Harbor venue that Lake Tahoe Shakespeare Festival (LTSF) calls home for its events. The $10 per vehicle per day Nevada State Parks Entrance Pass fee (when purchased in advance) is required by Nevada law and all proceeds support Nevada's State Parks. You can get a pass as part of the ticket purchasing process. Entry to Sand Harbor's parking lot is first come, first served and may be delayed as spaces become available pre-show. Passes purchased at the park on the day of an event are $10 for Nevada license plates, $15 for out-of-state plates. Entrance pass fees also apply to ridesharing services such as Uber and Lyft.
Note that there are no public transportation services in the evening for Festival goers. It is illegal to park along the roadway near the Sand Harbor entrance.
Additional information is available from Frequently Asked Questions and by calling (775) 832-1616.
No Pets at the Lake Tahoe Shakespeare Festival
Animals are strictly prohibited in Sand Harbor State Park and at the Festival. Pets may not be brought and left in the car. Pets left in cars will be removed by state park personnel and you will be fined. Service animals individually trained to work performing tasks for people with disabilities are not pets and are permitted. Therapy and emotional support animals are not considered to be service animals and are not permitted.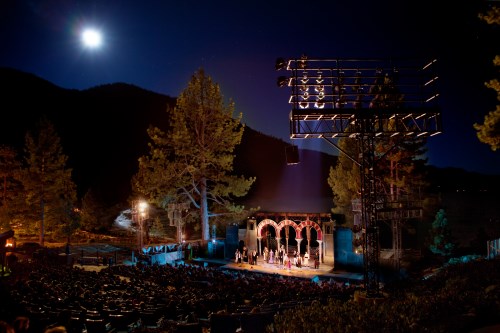 Lake Tahoe Shakespeare Festival at Sand Harbor. Image courtesy Lake Tahoe Shakespeare Festival
Sponsored Links
Sponsored Link