Our Reno Aces are a Minor League Baseball (MiLB) Triple-A team affiliated with the Arizona Diamondbacks of Major League Baseball (MLB). The Aces play in the Pacific Coast League.
The Reno Aces' home field is Greater Nevada Field in downtown Reno at 250 Evans Avenue and W. 2nd Street, next to the Truckee River. This is a great stadium - it's small enough that everyone can be close to the action and big enough to have all the services (a variety of food and drink, Team Shop, Freight House District entertainment, etc.) needed to make attending games a fun and entertaining experience.
Reno Aces 2021 Game Schedule
by the Month
More Reno Aces Information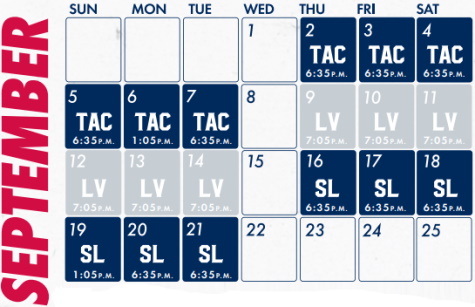 (DK. BLUE = Home games at Greater Nevada Field)
These final games of the season are at Greater Nevada Field, all vs. the Las Vegas Aviators...
Wednesday, September 29 - 6:05 p.m.
Thursday, September 30 - 6:05 p.m.
Friday, October 1 - 6:05 p.m.
Saturday, October 2 - 4:05 p.m.
Sunday, October 3 - 1:05 p.m.
Triple-A Pacific Coast League Teams
(Schedule courtesy Reno Aces Baseball Club.)
Sponsored Links
Sponsored Link